On the same day that the Police went ahead and charged labourer Clarence Greene with setting fire to the Brickdam Police station, the Guyana Fire Service announced that while it has concluded that the cause of the fire was arson, none of the prisoners including Greene, made any confession to its investigators about starting the blaze.
The Guyana Police Force is relying heavily on an alleged confession it announced it has of Greene admitting to starting the fire.
In addition to being interviewed by the Police, all of the prisoners who were in the lock-ups at the time of the blaze were also interviewed by the Fire Service as part of its investigations. There were no confessions made during the Fire Service interviews.
Fire Prevention Officer Sheldon Sauns said the Fire Service was very thorough with its investigations and the investigation has been completed.
"The investigation is concluded and we came up with the cause of the fire", Mr. Sauns said.
He explained that the determination of the cause of the fire being arson was based on evidence collected at the scene and various statements taken from the prisoners who were interviewed.
The Fire Service was summoned to the Brickdam Police Station just after 11 o'clock last Saturday morning as heavy smoke was seen billowing from one of the wooden buildings at the complex.
Within minutes, the fire engulfed several buildings and departments, flattening most of the wooden buildings in the compound.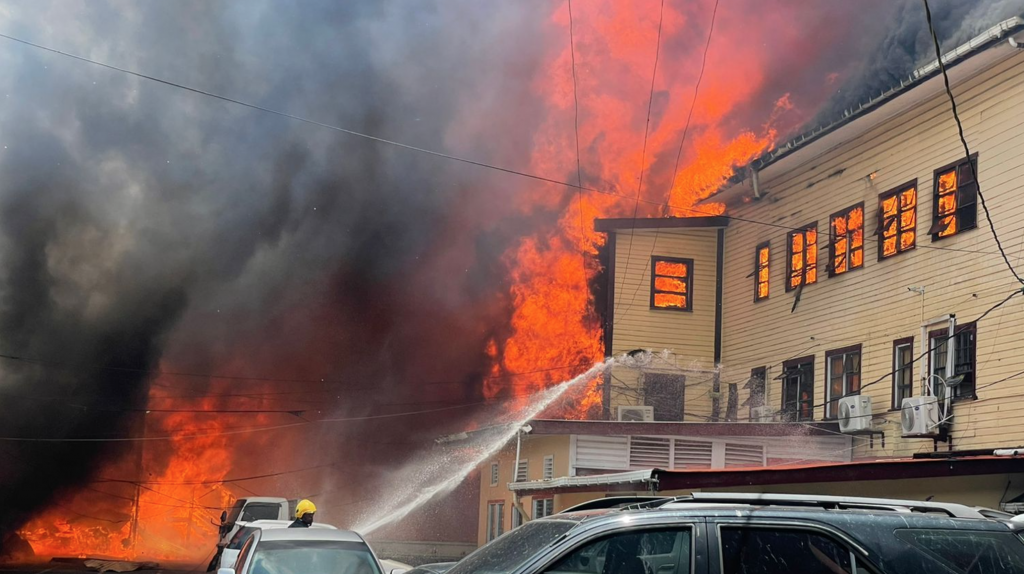 The Fire Service has faced criticism for its response to the fire, but it was explained today that several fire tenders responded from various locations and the firemen did their best to douse the fire that engulfed the old wooden structures.
Acting Fire Chief Gregory Wickam told reporters today that the Fire Service has already taken steps to ensure it improves on its performance when responding to fire emergencies.
Wickam took over as Fire Chief two days ago after the Government sent Fire Chief Kalamadeen Edoo on leave.
Meanwhile, the Fire Service revealed today that it has seen a big increase in reports of fires since the start of this year and the trend is worrying. The investigations into many of those fires have been concluded with varying causes.
The Guyana Fire Service also reported today that it has also noted an increase in prank calls and it would like to discourage persons from making such calls.