The 24-year-old labourer who has been accused of starting a fire that gutted the Brickdam Police station was today charged with setting fire to a building that belongs to the state and remanded to jail.
The accused, Clarence Greene, appeared before the Chief Magistrate with his Attorneys Ronald Daniels and Kiswana Jefford at his side.
While in Court, he was not required to enter a plea to the indictable charge, he declared his innocence to the media on the outside while being taken away by the Police.
"I didn't do nothing like this, they trying to frame charge me and I would like y'all to look into it", the man told the media.
During the Court appearance, the Police Prosecutor told the Court that the accused confessed to the crime during a video-recorded interview. The Court was told that the video recording, as well as an audio recording of the alleged confession, will be presented during the case.
The Guyana Police Force has claimed that the man confessed to starting the fire and although the man later told his Attorneys that he never made any such confession and was forced to sign a statement he could not read, the Police said it was standing by the alleged confession.
The Brickdam Police station was gutted by fire on Saturday, leaving nothing more than ashes behind.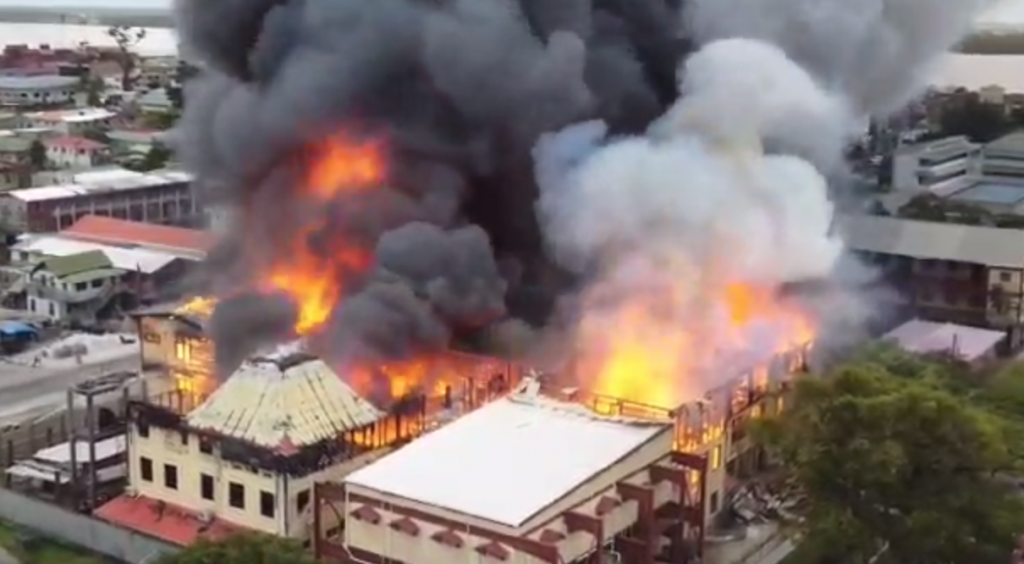 The operations of the Police station have since been relocated to the nearby St. Stanislaus College.
The accused, Clarence Greene was arrested by the Police early on Saturday morning as a suspect in an armed robbery. He was also charged for that crime today and refused bail. He is accused of robbing a woman of a cell phone at gunpoint.
The man has also denied that accusation.