The Operations Officer of the Guyana Fire Service, Compton Sparman, on Monday morning told the Prison Unrest Commission of Inquiry that prisoners threw rocks at Fire Service Officers on the night of March 2nd, to prevent the firemen from extinguishing the first set of fires that they lit at the Camp Street jail.
Mr. Sparman told the Commission that the Fire Service was called just after 9:00pm and when the firemen got there, they saw several fires that were lit.  He said there were at least 10 to 15 fires that were set in the Capital A Division of the Prison. "And as fast as we put them out, they lit another", Sparman said.
He said the prisoners were abusive to the firemen as they made attempts to put out the fire. The Operations Officer told the Commission that one of his firemen was hit with a rock to the back of the head.
"They were throwing rocks and missiles at us and threatening us", the senior Fire Officer said, as he explained that he was concerned about the safety of the firefighters as the inmates continuously threw rocks and other missiles at them.  He testified that the firemen held their position and continued with their work.
The Officer also testified that as the Fire Service aimed the water at the fires, the prisoners started to use mattresses to block the water but the prisoners soon abandoned that effort as they could not withstand the force of the water.
He said on the night of the fire, there was a low breeze blowing over the area and that was an advantage to the fire service. Sparman told the Commission that had the wind picked up, lives inside and outside of the prison would have been threatened because that would have aided the fire.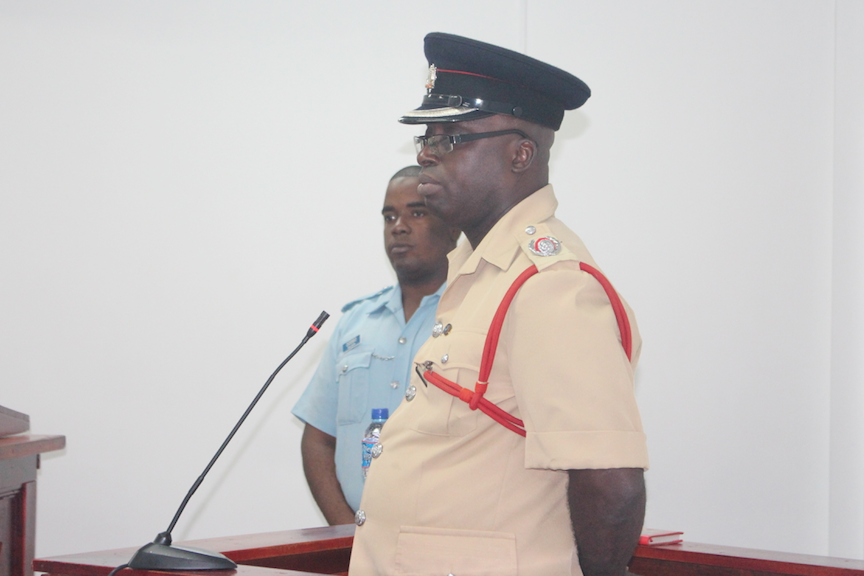 "Our idea was to curtail and bring the fire under control and extinguish it", Sparman said. He said he is convinced that the Fire Service saved a number of lives by putting out the fire on the Wednesday night.
The Commission was told that following the Wednesday night fire, the Guyana Fire Service left a standby system in place with two fire tenders close to prison "in the event that something happened". He said firemen were also left at the scene.
Mr. Sparman told the Commission that he was in command of the fire fighting efforts on the night of Wednesday, March 2, 2016 and there were no breaches of the Standard Operating Procedures of the Guyana Fire Service.  He said a number of Fire tenders had responded to the scene and the firemen were out in full force in keeping with the SOPs.