Six days after a major drug bust at Parika, five men appeared in Court today to face charges in connection with the cocaine and marijuana that were found.
They were all remanded.
The bust was made by the Customs Anti Narcotics Unit.  Over 30 pounds of cocaine and more than 70 pounds of marijuana were found stashed in plastic gas bottles in the trunk of a car.
The five men, 39-year-old ,Khamraj Lall, 36-year-old,Marlon Lawrence, 47-year-old, Rajendra Persaud, Cleve Thornhill, and 36-year-old, Doodnauth Chattgroon all appeared before Magistrate, Russell Liverpool at the Leonora Magistrates' Court.
Four of the accused, Khamraj Lall, Marlon Lawrence, Rajendra Persaud and Doodnauth Chattgroon entered not guilty pleas.
The fifth accused, Cleve Thornhill pleaded guilty to the charges.
The Court was told that on the 6th June,  all of the accused were nabbed with 35.080 kilograms of marijuana along with 13.812 kilograms of Cocaine in their possession for the purpose of trafficking.
On the day in question, acting on information,  CANU Ranks intercepted a car. The two occupants were identified as Marlon Lawrence and Rajendra Persaud.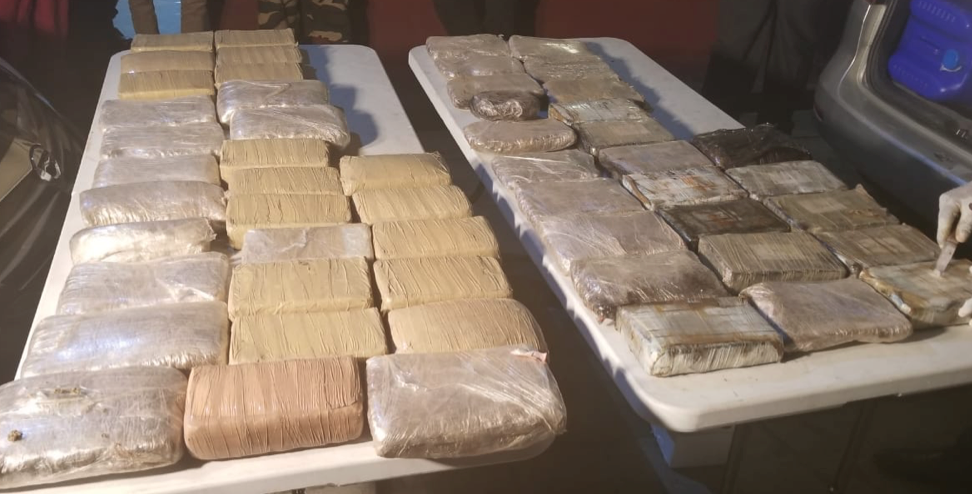 Upon the search of the car, ranks unearthed two large plastic bottles with the illegal drugs.
The ranks later received information linking the other suspects.
Attorney, Bernard DaSilva, who is representing Lall and Chattgroon made an application for bail. claiming that the drugs were never found in their possession.
Bail was refused for all of the men and the accused who told the Court that he wanted to enter a guilty plea, was given time to consult an attorney.
The men will make their next Court appearance on July 3, 2018