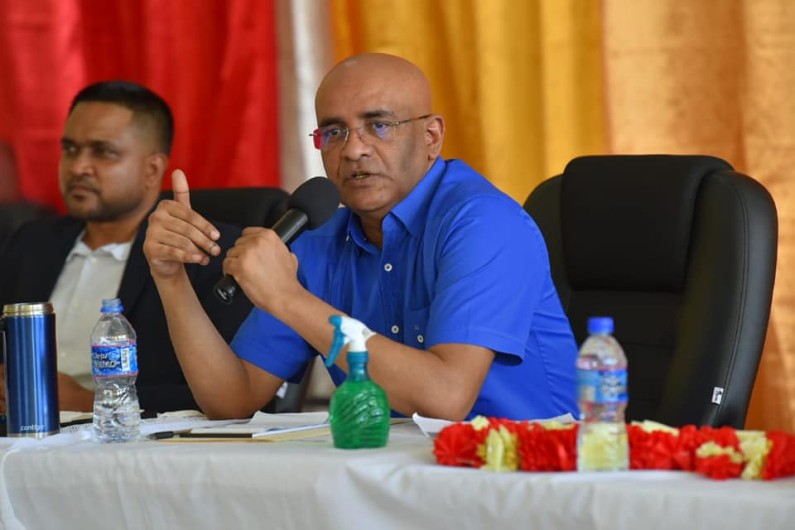 Vice President Bharrat Jagdeo today acknowledged that the cost of goods and certain services have risen exponentially, and will likely rise even further.
The Vice President during a meeting in Region Two said Guyanese have already benefitted from several tax cuts from the budgets presented by the PPP government.
He said as the price of goods continues to increase, the situation is of concern to the Government, but it is something that the government cannot control.
"Now you have a global shortage of goods and then the cost of freight went up that push the cost of living sky-high and there is nothing we can do about it. So we remove almost all the taxes from everything," Jagdeo told said.  
According to the Vice President, although Guyana has taken steps to ensure that the cost of items on the shelves is reduced, global shocks are hampering those steps to take effect.
"Look at the cost of flour, flour prices went up by 30%  and now it would go up even further because, in Ukraine and Russia, the two countries supply one-third of the wheat in the world, so now they are at war, you will have apply disruptions," the Vice President noted.
Mr. Jagdeo said the cost-of-living problems remain of grave concern to the administration.
He explained that apart from at the household level, the farming and other sectors are also being affected and the situation is putting an additional strain on the government.
"But you have one thing you can rest assured about is that this is a government that is sympathetic there are things we can do and there are things we can't do, we have removed the taxes and we are pumping monies into some sectors but if the price goes up there is very little we can do," Jagdeo noted.
Mr. Jagdeo said the government is very aware of the cost-of-living issue and will not turn a blind eye to it.
There have been mounting calls for the government to further cushion the effects of the rising cost of living in the country.
The prices for some commodities in shops have doubled while others increased by more than 50%.