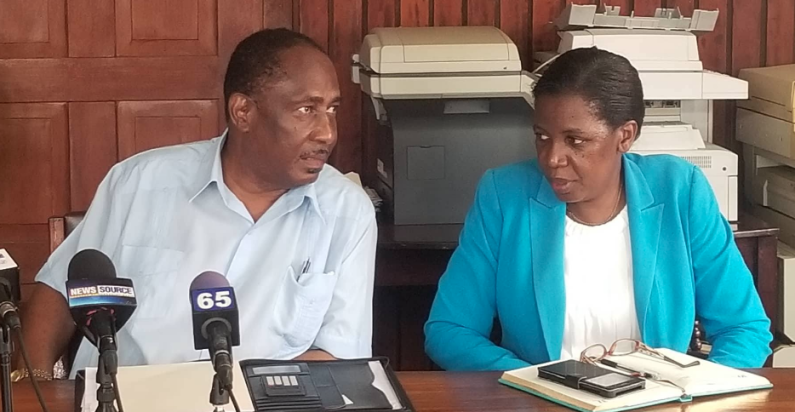 The Guyana Public Service Union on Monday disclosed that there is an ongoing police investigation into a series of break-ins at its headquarters in Georgetown as it continues to evaluate its losses.
GPSU Head Patrick Yarde said the first of about four burglaries was discovered about two weeks ago, on Monday July 16th, by the staff of the Accounts Department where a significant amount of cash was stolen.
Yarde would only say that cash losses in this instance were less than $1 million.
"The police report has the amount and I would not go into saying anything more unless we are advised by the police or our attorneys."
He explained however that "the cash was uplifted on Friday from the bank because on Monday we had an Executive Council meeting."
Yarde said the money was being kept at the office so that it was readily available to cover expenses of persons coming from all across the country.
There was another suspected break-in last evening where a television was stolen from the building.
"This morning we discovered a series of break and entries in the building… a TV from my office and documents are gone and there was also an attempt to get into the safe in the union," he added.
The lone security guard who was on duty last night is been sought by the police to offer clarity on what may have transpired between 7 pm on Sunday to 7 am on Monday.
Currently, staff members are unable to access a safe where an attempt was made to breach the lock.
"I have seen marks and I can show you where doors have been pried."
Yarde believes these are targeted criminal activities designed to disrupt the work of the GPSU.
"Undoubtedly it is targeted in our opinion. Clearly the regularity of it and the areas that they are penetrating. To get to my office you have to go through three doors and it is amazing how precise the things people are going for."
The Union will not rule out that it may also be an inside job. Yarde said once the ongoing audit is completed the Union will be in a better position to say what documents are missing.
He would not offer much more details, only to say that there is an ongoing police investigation.