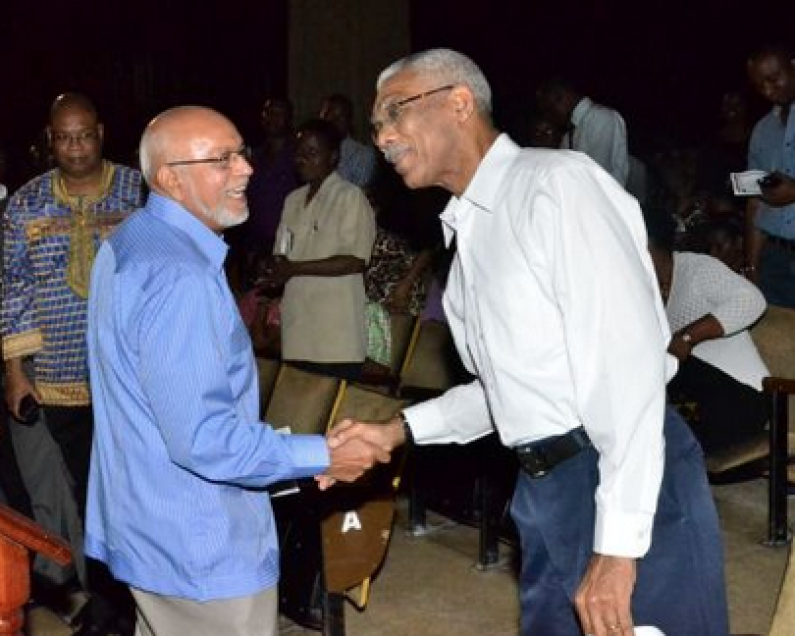 The People's Progressive Party has reportedly made a decision to no longer seek recounts in the 2015 General Elections and the diplomatic community has reportedly been informed of that decision.h
The Guyana Elections Commission will make its final declarations of the results at 12 noon on Saturday and David Arthur Granger will be sworn into Office as Guyana's 8th President at 1pm. 
News Source understands that President Donald Ramotar has been on the phone with a number of persons informing them of his decision to no longer seek recounts. 
Former President Bharrat Jagdeo has also been making phone calls over the decision.
Sources have indicated to News Source that the leaders of the PPP have also made it clear that they do not intend to impede Granger's inauguration into office.
The Diplomatic Community has been informed of the swearing-in to take place at 1pm on Saturday and Senior officials of the APNU+AFC coalition have also confirmed that the swearing-in will take place on Saturday just after the declaration.
Outgoing President Donald Ramotar up to Friday afternoon was holding out that the elections were fraudulent as he made several new claims to the Elections Commission. By Friday afternoon, the Elections Commission informed the PPP that it had checked all of its concerns and gone through statements of polls and all of the claims were found to be false.
On Friday afternoon also, the American, British and Canadian Missions in Guyana reaffirmed their position that the elections were free, fair and credible. A number local and foreign observer missions also made it clear that the elections were free and fair.
The PPP came under pressure on Friday to concede defeat in the elections. A number of government ministers started to return their government vehicles and properties on Friday also as they parted ways with the President and conceded defeat on their own.
Mr. Granger is expected to name his cabinet tomorrow and the swearing in of the new cabinet is expected early in the new week.