Local telecommunications company, GTT, is partnering with a number of non-governmental organisations to ensure that over 150 men across Guyana benefit from a Prostate Cancer Screening Initiative.
The company has signed a memorandum of understanding with the Men's Health Unit, several Non-Governmental Organisations (NGOs), Cancer Foundations and several GTT Pinktober sponsors.
After signing the MoU, the company dispensed 150 vouchers to further distribute to men over 40 years-old who meet specific criteria.
According to GTT's Health and Wellness Business Partner, Diana Gittens, the goal of the initiative is to promote prostate screening and raise prostate cancer awareness across Guyana.
She explained the voucher allows for one free Prostate-Specific Antigen (PSA) screening and is followed by a doctor's consultation with the patient.
"Those who will benefit from these vouchers will be identified by the various NGOs, cancer foundations, sponsors and the men's health unit. However, we are hoping that men like security guards, bus and taxi drivers,  labourers and administrative staff who are unable to afford the PSA test will be the ones reaching out for these vouchers; especially if they have a family history of cancer," Gittens said.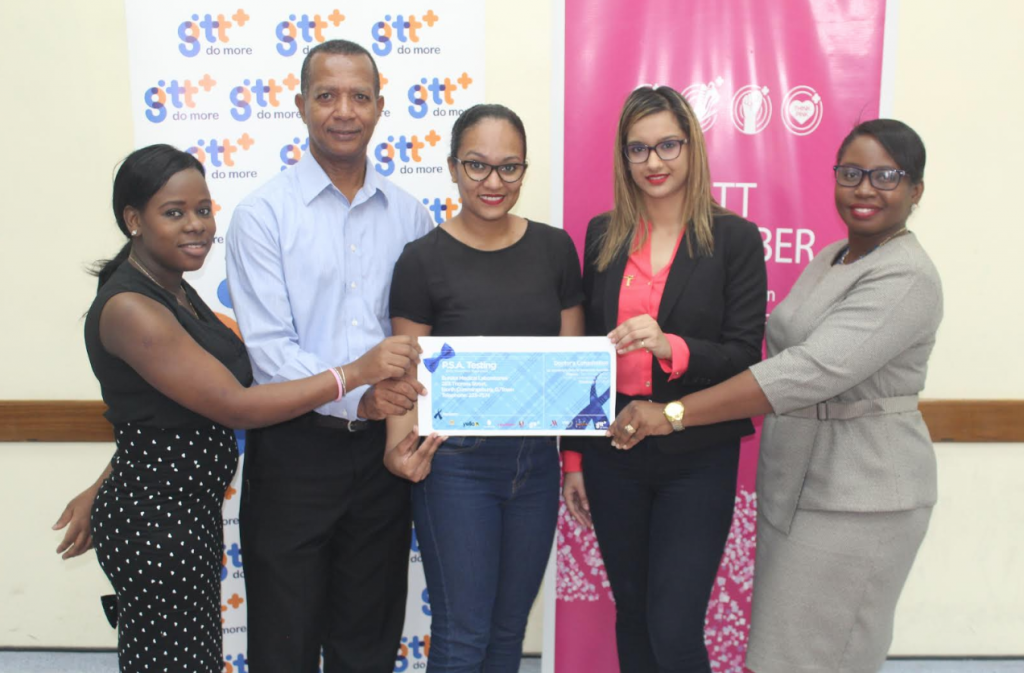 She highlighted that the voucher includes a doctor's visit and not only screening, since it is believed that many men are reluctant to visit doctors.
The Health and Wellness Business Partner encouraged all Guyanese men to do the prostate cancer screening, since early intervention can save lives.
Among those receiving vouchers were the Guyana Cancer Foundation, the Giving Hope Foundation, the Prostate Cancer Foundation,  Cancer Society of Linden and Berbice, Impressions, Republic Bank Guyana, Mix FM and Ansa McAl Limited.