Staff members and customers of the Popeyes Fast Food Restaurant on Vlissengen Road were forced to run for cover after four armed bandits who were about to rob the restaurant came face to face with a policeman who was purchasing dinner.
The incident took place just after 7 pm on Sunday. According to eyewitnesses, the policeman was getting ready to leave the restaurant when he came face to face with one of the gunmen who had just entered the business place with his gun in the air. The policeman reportedly tussled with him and wrestled him to the ground.
At least five gunshots were fired off, hitting the glass wall of the restaurant. The other three bandits who were on the outside ran away from the scene while firing shots also.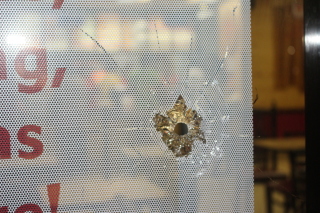 The gunman who was wrestled to the ground by the policeman was reportedly shot and taken into custody.
One witness said "everything happened so fast, the policeman probably didn't even have time to draw his own weapon, he had to fight to get the one away from the other man who was eventually taken into custody after he was injured".
This  is the third time in less than six months that the same Popeyes restaurant has been attacked by gunmen. Staff members complained once again about the absence of proper security at the restaurant.
And after the attempted robbery on Sunday, staff members were told by management that they should sell out all the pieces of chicken before closing off the business place for the night, although it was now the scene of a crime.
Filed: 25th January 2015