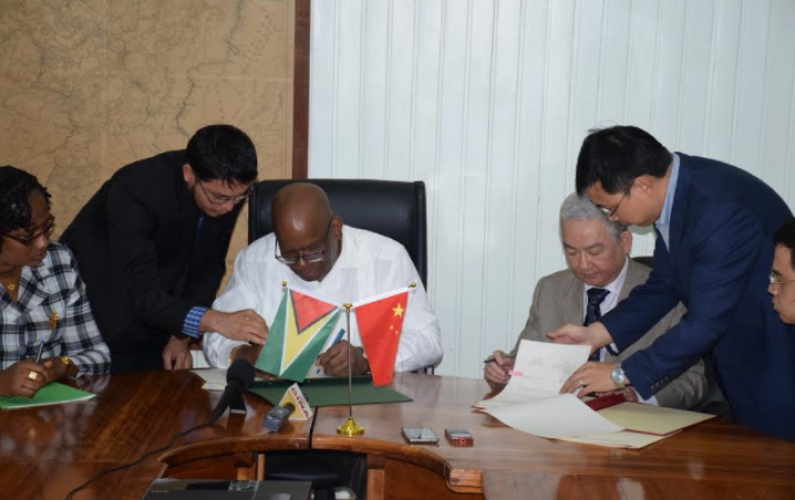 Minister of Finance, Winston Jordan, today penned an agreement with the outgoing Ambassador of China, Zhang Limin. The Framework Agreement will facilitate the access to a US $45.6 Million concessional loan from the China Eximbank to Guyana, for the improvement and upgrading of the East Coast Demerara road.
The outgoing Ambassador, Limin, said that he was "very happy" that he could sign the agreement before his departure.
He noted that after three years, they have finalized the project thus allowing for Guyana and China to sign the Framework Agreement.
Ambassador Limin, stated that he believes that there will be many more projects in the future which Guyana can count on China for support.
Meanwhile, Minister Jordan congratulated the Chinese Ambassador on his four year tenure in Guyana and noted that the signing of the agreement marked "an auspicious" moment because it means that Guyana will receive the money for development.
He continued that since Guyana and China established diplomatic ties, China has been a "very good and supportive" friend as Guyanese have seen numerous grants and loans from the Chinese government for various projects.
Speaking about the road improvement project, Minister Jordan said that the project will entail the widening of the road from Betterhope to Belfield on the ECD.
These improvements he noted will enhance accessibility and mobility along the route to Georgetown.
Some immediate benefits the Minister posited, would be the reduction of travel time to the capital city, reduced traffic congestion, reduced vehicular maintenance and a reduced road accident rate.
More importantly he noted, would be the improved movement of goods and people between the most highly populated regions in Guyana.
"The inking of this agreement is yet another demonstration of the strong bilateral relations which exist between the Governments and Peoples of Guyana and China over several decades."
Minister Jordan announced that the road project will begin in the first quarter of 2017 and would last for some 18 months. The contractor who won the bid via public tender is the China Railway group.
The road from Plaisance to Annandale would be converted into a four lane highway, while it would be widened from Annandale to Belfied.