The Presidents of Guyana and Venezuela on Saturday made it clear that they are both against any attack by the United States of America on Syria.
Venezuelan President Nicolas Maduro who visited Guyana on a one day Official State Visit said told a media conference in Georgetown that U.S President Barack Obama ought not to attack Syria because he shares differences with Syria.
The United States has been setting the stage for a possible military strike on Syria after it said it had gathered enough evidence that proved the Syrian Government had used chemical weapons on its own people which claimed the lives of over 1000 Syrians including children.
The Venezuelan President called on the United States to let the United Nations Security Council lead the way if there is a need to deal with Syria.
Mr. Maduro said "international law has proper mechanism to punish any violation or any commission of crime against humanity and in this case, we do not think that has been the situation."
South American Leaders meeting in Suriname on Friday on the eve of the Venezuelan President's visit to Guyana also called on the Barack Obama administration to stay away from any attack on Syria.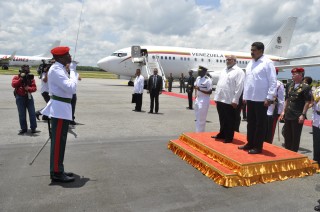 Speaking through an interpreter at the Guyana International Conference Centre, President Maduro warned Washington that "if every government in the world started judging other governments because of their differences, this will mean that we will all be going backwards and we will become a world without laws and without governments where war will be the only weapon".
Maduro said U.S President Barack Obama should not see himself as the sole power to replace the United Nations and judge and condemn Syria and decide to launch an invasion and attack. He said the U.S should not see itself as Judge, Jury and Executioner.
Guyana's President Donald Ramotar said Guyana is also against any attack on Syria. President Ramotar told the joint press conference that Guyana has always been about fighting for peace and he believes the United Nations should be able to do its work. "Our fundamental position has always been one for peace and it is on that basis that we stand in relation to Syria."
While Venezuela has strained relations with the United States, Guyana and the U.S have very strong relations with the United States supporting several Guyana government projects and initiatives. Guyana also benefits from a number of U.S Government programmes.