Guyana's President, Donald Ramotar, believes that there is the need for importers and exporters to ensure the quality of their products are maintained while adding more value and making the same products more affordable.
Speaking at the opening of the GuyExpo Trade Fair and Exhibition on Thursday evening, Mr. Ramotar said the country remains open for business and his government will be doing all that it could to ensure that it remains investor friendly.
Over 400 local companies and organisations are showcasing their products and services at the Guyexpo event which runs for four days. Several Caribbean and North American companies are also at the trade fair and exhibition.
The event has always been seen as part of a large marketing strategy to showcase and promote the "Made in Guyana" brand. The President believe there must be balance of trade with more focus on cost.
"We have to cheapen our imports by importing in larger quantities, and we have to cheapen our exports by exporting in bigger quantities… tied with hydro-electricity it lays a solid foundation for rapid industrialisation and processing in Guyana".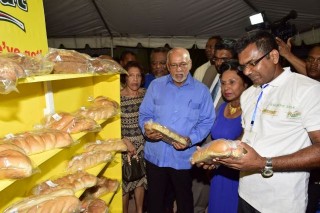 Reflecting on the theme of GuyExpo, "Transformation, partnering for a better Guyana" Tourism Minister (ag) Irfaan Ali, said that that transformation must be "bold" and "risk averse".
 "Transformation itself requires critical thinking; we cannot be static and be a part of a transformational process. We must be able to think, act and work beyond what seem to be confined boundaries that can limit the development of our country," Ali stated.
 He said boldness in decision making is a critical tool for the advancement of any society, He noted that if any sector was risk averse, the decisions needed to advance that sector would not be undertaken as "major transformation comes with risk". Transformation must also be applied to politics, with stakeholders moving from a selfish partisan to nationalistic, open manner, Minister Ali added.
The event is taking place  at the Sophia exhibition complex and will wrap up on Sunday, October 5.
Apart from the exhibition by companies, several Guyanese and Caribbean artistes are also being featured as part of the nightly concert that takes place in the party area of the exhibition. That event is being sponsored by several local companies.
Filed: 4th October, 2014