As Guyana continues its fight against the coronavirus pandemic, more help is coming in from some of its friends across the world.
The Government of Guyana has received a field hospital from the Government and People of Qatar. The field hospital is expected to assist in the provision of care for persons who are infected with COVID-19.
Late Tuesday a Boeing C-17 Globemaster jet from the Islamic Republic arrived in Guyana with 60 hospital beds and mattresses, 12 air-conditioners, 60 pillows, 60 blankets, eight carpets, one generator, 20 respirators, 20,000 types of small and large medical equipment and one diesel tank. 
Minister of Health, Dr. Frank Anthony and a delegation including Presidential Advisor on National Security, Captain Gerry Gouveia and Army Chief of Staff, Brigadier Godfrey Bess were on hand at the Cheddi Jagan International Airport to receive the field hospital.
Local authorities have already, earmarked the compound of the West Demerara Regional Hospital at Best village for the establishment of the hospital, where critically ill COVID-19 patients will be treated.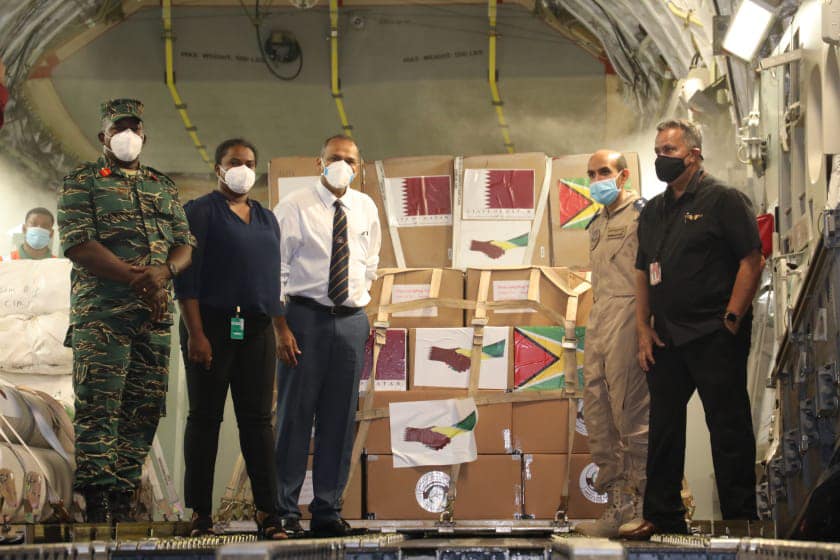 President Irfaan Ali, last evening, expressed his gratitude to Government and People of Qatar for their generosity and support in donating the COVID field hospital to Guyana.
In a Facebook post, the President recalled that it was soon after his inauguration in August that he held discussions with the Emir of Qatar, Sheikh Tamim bin Hamad Al Thani via telephone, where he pledged to provide the facility to aid Guyana's Covid fight.
The President is quoted as saying, "I thank the Emir and people of Qatar for their love and support. Weeks after my inauguration the Emir and I spoke and he promised to fly in a field hospital and accessories. Today, he delivered on that promise. Soon, we will be establishing our embassy in Qatar, and together we will accomplish lots more for the people of our two countries."  
Guyana has confirmed almost 7000 COVID cases with 170 deaths. Most persons have recovered from the illness, recoveries stand at almost 6200