With news of the passing of former Cuban President, Fidel Castro, tributes and praise are pouring in even as Cuban exiles celebrate the death of the 90-year-old.
For Guyana, President David Granger believes that Fidel Castro will be remembered as the best known Latin American and for the relations he forged with Guyana throughout his presidency, which came to an end in 2008 as he handed over power to his brother in the communist state.
In an interview this morning, Mr. Granger reflected on the decision by Guyana and some other Caribbean states 44 years ago, to break away from the international isolation and develop bilateral relations with Cuba.
Ever since then, Guyana has benefitted from Cuba's medical and educational sectors with hundreds of Guyanese doctors being trained in Cuba over the years and Cuban doctors coming to Guyana to offer their services.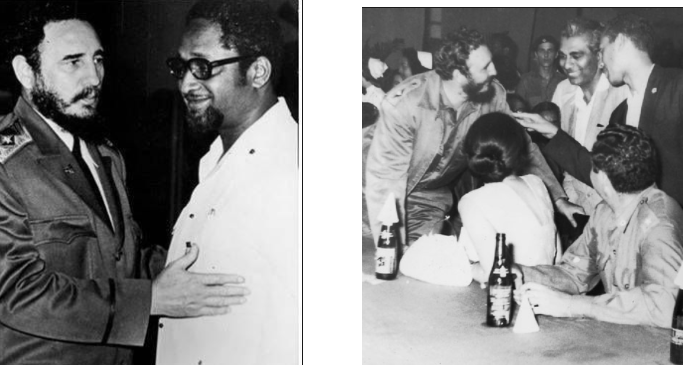 Guyana has also been supportive of the complete lifting of the US embargo on Cuba and has voted repeatedly at the United Nations in favour of an end to the embargo.
President Granger offered his condolences to the Castro family and the people of Cuba.
"His life was not only significant to Guyana and the friendship he had with Guyanese leaders, but also to the entire Western Hemisphere", the President said.
The Government of Guyana also issued an official statement.
Statement by the Government of the Cooperative Republic of Guyana
on the passing of President Fidel Castro
The government and people of Guyana mourn the death of Dr. Fidel Alejandro Castro Ruz, the late former President of the Republic of Cuba.
Dr. Castro was President of Cuba from 1976 to 2008 and previously Prime Minister from 1959 to 1976, leading Cuba for a total of almost 50 years.
Guyana hails Dr. Castro, globally renowned as 'El Commandanté' or, simply, 'Fidel' as an outstanding friend and a genuine partner, even before our country attained independence. It was under his leadership that Guyana-Cuba friendly and fraternal relationship had been placed on a solid and unbreakable footing.
When an unjust embargo had been imposed against Cuba to isolate the Castro government, Guyana, in 1972, joined three other countries in our region to establish diplomatic relations with a fellow Caribbean state.
Since that time, Castro embraced our countries as partners and responded to our critical needs, especially in the health and education sectors. To this day Guyana benefits from scholarship and training opportunities afforded to our young people in becoming doctors, engineers and other specialists. We continue to benefit too, from Cuban doctors and medical experts serving our people in our health care system.
Fidel was an exemplar of unparalleled generosity, revolutionary commitment, national dignity and unyielding patriotism.
Though he was ailing for many years and had prepared his people for the inevitable, the passing of this colossus whose greatness is indelibly written in the history of the world across two both the 20th and 21st centuries, will evoke an immeasurable pain and loss in Cuba and beyond. Guyana mourns the death of a dear friend, a revolutionary icon and a giant of international humanitarianism.
The Government of the Cooperative Republic of Guyana conveys to the government and people of Cuba sincere condolences and assures that at this time of collective global grief, the people of Cuba are not alone.