One day after the Global Witness organisation released a report on Guyana's oil industry, claiming that the country could possibly lose up to US$55 billion because of a "bad" contract with Exxon, the International Energy research group, Rystad Energy is looking at the actual benefits that Guyana will get, based on its own studies and findings.
In a report which was released this morning, Rystad Energy said with Guyana's Oil production estimated to reach 1.2 million barrels per day by 2030, the country's total annual oil revenues could approach US$30 billion within 10 years.
Rystad Energy said the economic fortunes of Guyana, with a population of only around 800,000, are poised for a major transformation after its first-ever oil development commenced production just six weeks ago.
"Offshore oil production is expected to grow rapidly in the years to come and will generate unprecedented revenues for the Guyanese government", the report said.
The report quotes Rystad's President of Upstream Research Sonya Boodoo as explaining that "since the initial discovery in 2015 of the giant Liza oil field in the prolific Stabroek block, Guyana has discovered more than eight billion barrels of oil resources", adding that "Liza was brought on stream in December and many more fields will follow suit in due course. Guyana's rising oil revenues will make a huge difference in the continued development of the country".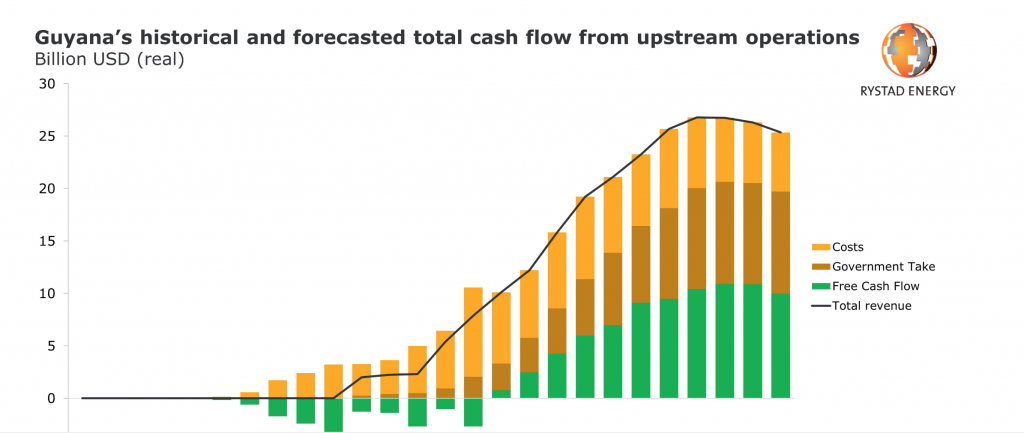 She also pointed out that at the same time, in order for Guyana to realize the full potential of its oil resources, a stable regulatory and fiscal environment will be a key factor."
The other report by Global Witness focused heavily on the renegotiated contract with Exxon, pointing out that while there is no evidence of corruption in that new contract, Guyana should have pushed for a better deal. Global Witness believes that Guyana should push for a new contract with Exxon.
But even with that report, Rystad Energy is forecasting that Guyana's oil production could reach 1.2 million barrels per day by the end of the decade, lifting total annual oil revenues to about US$28 billion, assuming an oil price of about $65 per barrel.
The report said the Government income in the country, which is projected to be a modest US$270 million this year, is forecast to grow rapidly and could reach nearly $10 billion annually within a decade.
Meanwhile, a report in the FORBES Magazine on the Global Witness report on Guyana has chided the report as not adding up.
The writer of the FORBES Magazine piece, David Blackmon, contended that the allegations made by Global Witness don't really stand up.
He said Global Witness states repeatedly and unequivocally that it found no evidence of any wrongdoing by ExxonMobil nor Guyana's government ministers.  
Instead, he noted, the report focuses on the terms of the Stabroek contract itself and finds that "Guyana is somehow leaving $55 billion on the table".
The FORBES Contributor, who is an independent Energy Analyst, said the conclusion by Global Witness is based on an analysis that it commissioned from OpenOil, a Berlin-based company that provides analyses for NGOs.
He added that the conclusion is based on a comparison between what Guyana would make with an overall take of 52 percent and 69 percent, adding that "the basis for the two percentages is left unclear in the report".