The New York Daily News is reporting that a Guyanese national who owns an Auto Mall in Brooklyn is the latest person to be fingered in allegations of corruption linked to former State Senator John Sampson who is of Guyanese parentage.
The Daily News reports that "One of those questioned by the FBI, sources say, is Brooklyn auto dealer Lilaahar (Sammy) Bical, owner of Kristal Auto Mall, one of the biggest Cadillac dealers on the East Coast.
Last year the FBI confronted Bical about Sampson's role in helping him eliminate hurdles blocking Bical's plan to buy a city-owned plot on Flatbush Ave. near the Belt Parkway.
Bical wanted the land to expand his dealership. But he faced opposition from some local politicians, including then-Sen. Carl Kruger (D-Brooklyn), who was trying to help developer Bruce Ratner build a shopping mall on the same property (Kruger was later indicted in an unrelated case and is now in prison).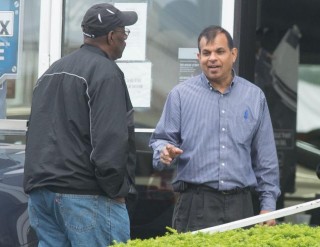 Seeking help, Bical turned to Sampson. The senator requested a $10,000 "retainer fee" up front, and Bical wrote the check, sources say. Soon after, Sampson arranged a sit-down with Bloomberg administration officials at City Hall.
A spokesman for the city Economic Development Corp., which oversaw the land sale, confirmed that Sampson "provided legal counsel to Mr. Bical at a certain point and did meet with EDC a few times."
A city official, speaking on condition of anonymity, described the meetings as "an awkward situation because he's not just a lawyer — he's also a senator."
The meetings occurred in early 2012, and in February the city sold Bical the land he had long sought. Bical paid $4.2 million, $200,000 less than the city's own appraisers said it was worth.
When the FBI questioned Bical about this, agents played a recording of him talking to Sampson about obtaining the city land for the bigger dealership, sources said.
On Friday the Guyanese-born Bical declined to come out of his office at Kristal Motors, on Kings Highway, to speak with a Daily News reporter. His attorney did not return calls.
Another businessman who paid Sampson's fee is Roopnarine (Rudy) Singh, owner of MSN Air Service, a company that hauls freight for airlines at JFK International Airport.
For years Singh tried unsuccessfully to get the Port Authority, which runs the airport, to lease him more space so he could expand MSN's business. He appealed to several local politicians for help, without success.
So last year Singh reached out to Sampson, and even though JFK is outside Sampson's Brooklyn district, the senator promised to handle the situation — for a $10,000 "retainer fee," sources said.
There was no written retainer agreement and Sampson was vague about exactly what he would do for the money, one source said..
Sampson eventually arranged a meeting with a colleague, then state Sen. Shirley Huntley (D-Queens), whose district included JFK, according to sources.
Singh met with Sampson at Huntley's modest red-sided home in Jamaica, Queens.
What Sampson and Singh did not know is that Huntley recorded their conversation at the request of the FBI, under an arrangement that she hoped would lead to leniency at her sentencing for an unrelated charge of stealing $88,000 from a tax-payer funded charity she controlled.
According to prosecutors, Huntley demanded $1,000 from Singh in return for her help, even though the FBI was listening in."
(NEW YORK DAILY NEWS)