As the Inquiry into the alleged plot to assassinate President David Grangers continues, Assistant Commissioner of Police, Clifton Hicken is being accused of "dereliction of duty" in the initial police investigation, an assertion that he has sternly rejected.
Hicken who served as A' Division Commander was questioned on the role he played in the investigation while he held that post back in March 2017.
He told the Commission, headed by retired Assistant Police Commissioner Paul Slowe, that he was called by Crime Chief Wendel Blanhum on March 29th, during which he asked him to facilitate the escort of Andrif Gillheart who was at the time at the Ministry of Public Security.
Hicken said Blanhum told him that the man had information into a plot to assassinate the President and he wanted him to be escorted to CID Headquarters at Eve Leary.
According to the then Commander, he asked his Divisional Detective Officer Michael Kingston to facilitate the transfer but before Gillheart was taken to Eve Leary he was taken to Hicken first.
Hicken said that was done so that he could confirm that it was the same person Blanhum had asked him to facilitate an escort for.
He told the Commission that he did not seek to get any other information from Gillheart but reported to Commissioner Seelall Persaud what was told to him by Blanhum and was instructed to send the man to CID Headquarters.
But Commissioner Slowe said he found it strange that Hicken did not ask Gillheart anything else.
Slowe who once served as Police Commander of 'A' Division immediately concluded that it appears that Hicken was "passing the buck."
Hicken rebuffed that assertion by explaining that he did not want to compromise the integrity of the information which Gillheart had.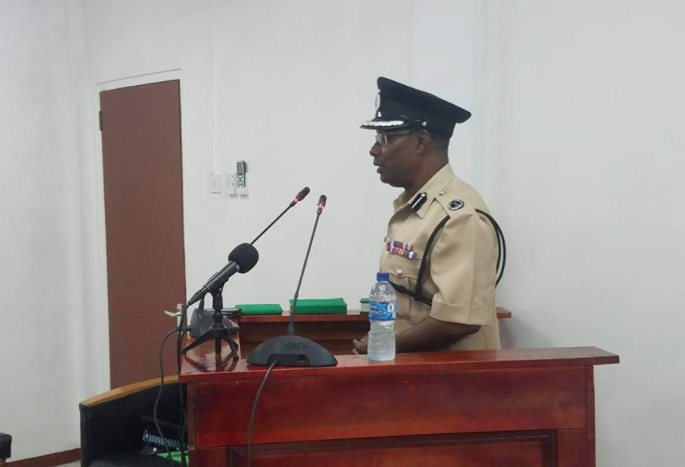 "I am not accepting that Mr. Hicken. From my experience, As Police Commander, I would have sought to find out the nature of the complaint. But I'm not you, you are not me. So far, I am getting the impression that nobody wanted to get involved," Slowe said.
Hicken responded by informing Slowe that "times have changed." He said divisional investigations are not allowed to be developed once there is an ongoing investigation at CID Headquarters.
"Sir I've been around a while and I know that whenever you jump out of protocol and think you can deal with things individually you can get into trouble," Hicken added.
Slowe immediately responded by saying "I can't accept that. To me its neglect, dereliction of duty, Perhaps even worse."
In the brief back and forth, Hicken then replied: "for me I did the right thing, not to interfere investigation."
But Slowe maintained until the end of Hicken's testimony that more should have been done at the divisional level.
"That's from an old policing perspective," Hicken said to which Slowe noted, "that is your judgment, I would not have dealt with it in that way but I'm not you, you're not me."
"You are harping on the Commander issue and you know that when things are handled at CID Headquarters, Commanders don't get involved," Hicken added.
During Hicken's testimony, he also informed the Commission that, as far as he is aware, the matter was not discussed at any senior policy meetings with the Police Commissioner and other Commanders.