Over five hundred Guyanese passengers, who were prepared to dump a white christmas for sun and rain, have been forced to camp out at New York's JFK International Airport as Dynamic Airways has cancelled at least two flights in to Guyana, but is offering little information to the stressed out passengers.
A woman who was believed to be heading to Guyana for her Sunday wedding, collapsed in tears and fainted after finding out that the flight to Guyana had been cancelled.  It is believed that efforts were made to get her on another flight to Guyana with another airline.
An elderly couple told News Source that they have been at the airport since Friday night and the airline has not been forthcoming with passengers. The husband and wife explained that they live outside of the New York area and would therefore found it difficult to head back home and return.
They were not provided with any accommodation and used new bedsheets from their luggage to keep themselves warm and covered inside Terminal One.
Scores of elderly passengers could be seen asleep in airport wheelchairs as they too are hoping on a word from the airline.
The latest set of problems for Dynamic started late on Friday night when the over 250 passengers who turned up for their non-stop Saturday morning flight to Guyana were told that the flight had been cancelled because the aircraft which had just flown from Georgetown, had developed a maintenance issue with one of the wing flaps.
A representative for the airline check in agent at the airport would only tell passengers that they should call a number provided for additional information about the flight.
"It could take an hour, two hours or a day to repair, we don't know at this time, so call for the information", he told them.
No one answered the number provided and the affected travelers were left listening to a recording that did not allow any messages to be left.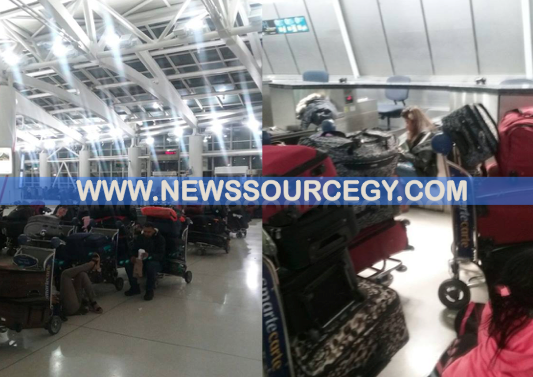 The situation became worse on Saturday as many of the Friday passengers who did not stay at the airport overnight returned, along with passengers who were booked to depart on a Saturday flight.
There were no representatives from the airline to provide them with any information and many openly voiced their concerns about the situation and the "lack of respect" that the airline was showing its passengers.
"It's been two days I have been here and these people don't even have the respect to have someone here to brief us. And no one is answering their phones. This is a real eye pass and its an eye pass that has been allowed to go on for too long", one angry passenger said.
In Guyana, Capt. Gerry Gouveia of Roraima Airways, which handles ground and ticketing for the airline in Guyana, said based on what he was told, the airline was dealing with some maintenance issues and replacement parts had to be flown in to the New York area, to ensure the issue was resolved.
A snow storm that blanketed the New York area may have caused some delays in getting the parts to the JFK airport on time.
Up to late Saturday night, he had no other update.
The airline had been performing well with on time arrivals and departures over the past months. It has increased the number of flights coming in to Guyana to meet the holiday demands.  Other airlines plying the Georgetown route have found themselves mostly fully booked for the rest of the season.