The Opposition People's Progressive Party opened its first party congress since its defeat at the 2-2015 elections on Saturday in Cotton Field, Essequibo.
The party took the Congress to one of its most loyal support areas as it began to assess its defeat at last year's elections and examine all that needs to be in place for it to get back into power in 2020.
The PPP had been in power for 22 years when it loss the May 2015 polls.
Speaking at the opening of the Congress, Party General Secretary, Clement Rohee, said the PPP must ensure the APNU+AFC Coalition is limited to just one term in office.
He said party supporters must start rallying now to whip up support across Guyana and overseas to ensure it wins the next elections.  He said the party's battle cry should be that the current government be limited to no more than five years in office.
Central Executive Member of the PPP, Opposition Leader and former President, Bharrat Jagdeo appeared in full campaign mood as he spoke about the need for the party of Dr. Cheddi Jagan to move away from historical notions as it charters a way forward.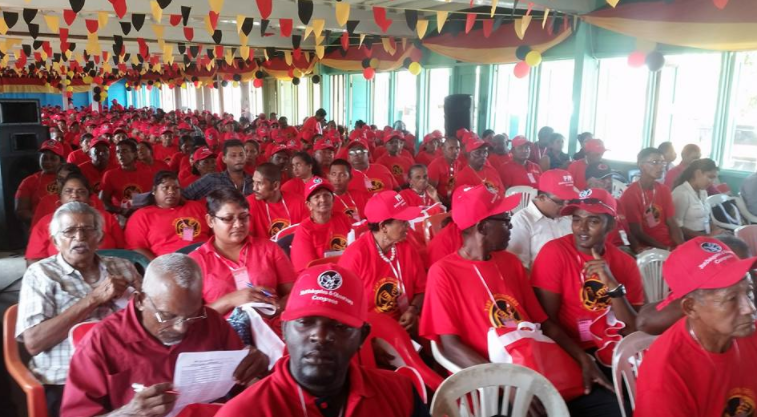 He said that change in style should not been seen as pushing out the older folks, but the party rather an embracing effort of new ideas.
He said the party must reach out to those supporters of the APNU+AFC coalition who are not happy with the way the government has been operating.
Jagdeo urged the PPP supporters to begin to make way for APNU+AFC supporters in the efforts to get back into power. He cautioned them against turning away anyone and called on them to have an open mind and a sympathetic ear.
"Let us all of you create that space for them. Do not send people away.  We are broad minded enough. They don't have to be party members but we must have a sympathetic ear to all suffering Guyanese", Mr. Jagdeo said.
And he said that in moving forward, the party needs to also examine itself and where it went wrong that resulted in the loss at the 2015 elections. He said that will be one of the main areas the Congress will have to examine.
Other speakers included the Head of the PYO, Irfaan Ali, GAWU President and PPP Member of Parliament, Komal Chand and Indra Chandarpal of the Women's Progressive Organisation.
Former Presidents under the PPP, Donald Ramotar and Samuel Hinds, were also in attendance.