The Inter-American Development Bank has suspended the disbursement of funds for the Sheriff-Mandela road expansion project and according to Public Infrastructure Minister, David Patterson, the decision is a result of several infractions by the contractor, SINOHYDRO Corporation Limited.
In a post on his Facebook page, Minister Patterson said the halt in funding was due to, "numerous serious health and safety infractions as well as traffic management failures by the contractor."
He said issues persisted even though the contractor was engaged on the "grievous shortcomings".
Patterson said "SINOHYDRO was warned on several occasions to rectify these issues but unfortunately to date, the majority of failure identified have remained outstanding".
Patterson said he is not surprised by the move by the IDB since he too has consistently stated his dissatisfaction in the contractor's performance.
The project is an IDB project and the contractor was chosen by that body.
Now, according to Patterson, his Ministry has commenced actions to address the defaulting issues since some of the failures pose serious safety risks to the general public.
Patterson said the contractor must take responsibility for its own disregard of its contractual obligations that has reportedly led to the dismissal of one of its employees.
In a letter to that employee, the Chinese contracting company claimed that the decision was as a result of it not being paid for the past three months.
But Patterson said the company should come clean and explain its shortcomings. He said it was the IDB that carried out performance audits and made a decision to put a hold on funds.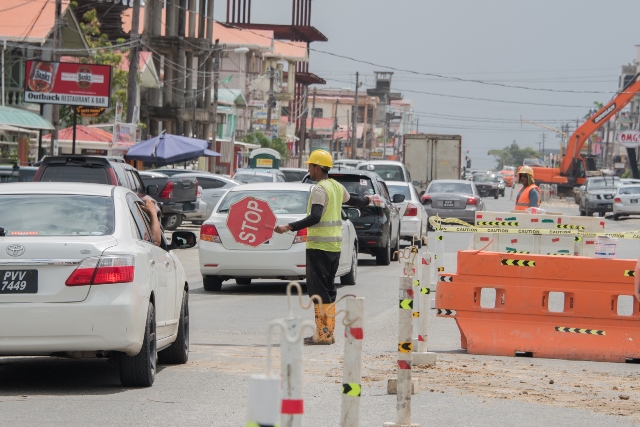 The $6.4Billion (US$31M) project involves rehabilitation of pavements, construction of bridges, culverts and a pedestrian overhead walkway, traffic and drainage upgrades.
Sheriff Street will see a two-lane roadway with a concrete median separating the two lanes complemented by sidewalks, cycle lanes and parking. While Mandela Avenue will become a four-lane with a central median, with combined sidewalk and cycle lane.