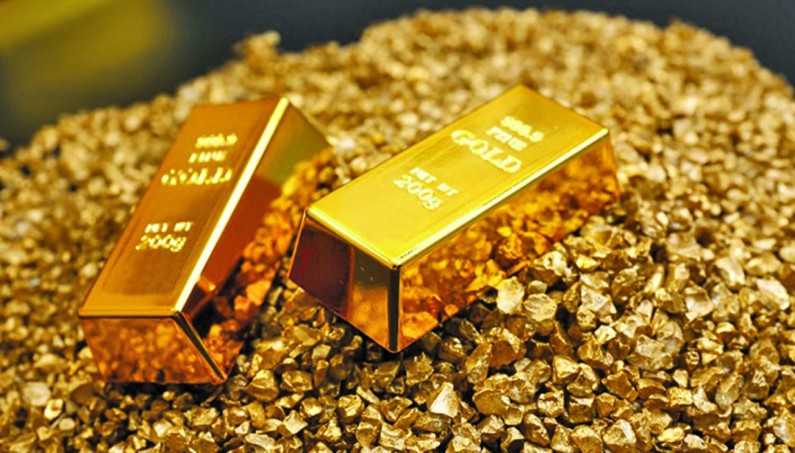 The Guyana Geology and Mines Commission today revealed that Guyana's gold declarations for the first half of the year have increased when compared to the same period (January-July) last year. 
The revelation was made by Natural Resources Minister, Raphael Trotman, who disclosed that as of July, the declaration stood at almost 400,000 ounces, which represents an approximate average of 55,000 oz. per month.
The Minister was at the time addressing Board Members and staff of the GGMC which celebrated its 40th anniversary on Wednesday.
Gold declaration for this year, according to the Gold Board is expected to be 651,000 ounces. Last year, total declarations amounted to 613,073 ounces, which represented a 6.22 percent drop from the previous year. 
Gold declarations aside, the GGMC also sought to highlight the fact that Guyana now has three ongoing bauxite operations at Linden and Aroaima in Region 10, and at Bonasika in Region three.
The Commission said that this was as a result of First Bauxite's entry to the fold of bauxite producers alongside Bosai Minerals and Rusal.
Meanwhile, Minister Trotman also seized the opportunity to lauded the work of the Petroleum Division of the GGMC in preparing Guyana for 'first oil' in 2020.
He was keen to highlight GGMC's efforts to embrace Information Technology to digitize the process of applications for prospecting and mining permits, and overall land management.
These achievements, the Minister said, have been made in the face of attempts at the disruption of operations of the institution, challenges brought on by changing weather patterns that hinder effective hinterland road maintenance, and unhelpful criticism. 
He reiterated the government's continued support for the sector, and outlined the five limbs of the government's mining policy. These include: Improved infrastructure development; Improved security and human safety; improved health and environmental security with a mandatory process of land reclamation and reforestation; improved law enforcement; and a modern, safe and technologically advanced gold mining sector.
Against this backdrop, Minister Trotman shared that the Commission has defied its critics and continues to stand strong in the face of challenges.