The Annual Officers Conference of the Guyana Defence Force opened this morning with Commander-In-Chief, President David Granger indicating the need for stronger border control in wake of the movement of Venezuelans into Guyana seeking refuge from economic and other issues in their homeland.
The President told GDF Officers that "the influx of more than three thousand migrants fleeing economic and political distress in Venezuela, necessitates stronger controls along our borders", adding that "the Defence Force therefore must maintain itself in a state of readiness to secure our entire country and protect it from present and future dangers".
Guyana has found itself establishing settlements in the border communities to assist those Venezuelan migrants.
The President reminded the Officers gathered at State House, that the Defence Act charges the Defence Force with the defence of Guyana, pointing out that the Force is obligated to secure the state and safeguard the entire country from "invasions, incursions and insurrections".
President Granger said Guyana remains committed to ensuring that South America and the Caribbean region remain a zone of peace. He said that peace subscribes to the peaceful settlement of disputes. Guyana, he said, will never do anything to endanger international peace.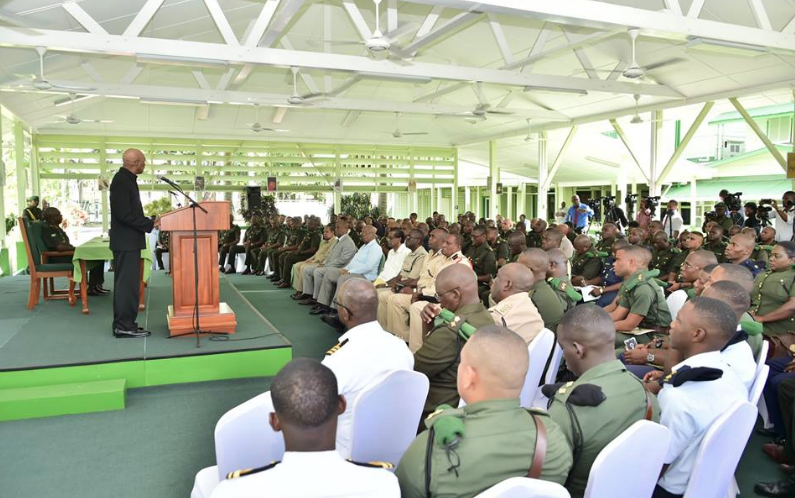 A few weeks back, Guyana was forced to file a complaint with the United Nations after the Venezuelan Navy intercepted and attempted to board an ExxonMobil research vessel that was conducting work in Guyana's waters.  Guyana currently has a case before the International Court of Justice for a final settlement of the border row with Venezuela.
President Granger said the Government of Guyana will continue to invest in the military. He noted that the budget for the Guyana Defence Force has been increased by more than 75% in the last three years.
He said several new initiatives for the development of the Guyana Defence Force are already being examined and implemented.  President Granger said his government will continue with its plans and efforts to develop and improve the Guyana Defence Force.