Residents of the Region 10 Upper Demerara/Berbice community of Ituni have blocked the main access roads in the area in protest of the Government's forestry land distribution policy. Large pieces of logs have been thrown across the roads and set on fire.
The  protest action started this  morning and has completely shut off access to a number of communities including Kwakwani and the Sub Region 2 Berbice area which is home to bauxite and several timber companies.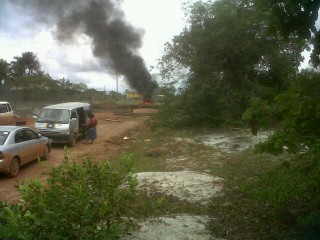 Residents are upset by what they see as an unfair land distribution system that shuts them out and creates economic hardship.
Region 10 Chairman Sharma Solomon said he has been briefed on the development by the Region's representative in the area. Speaking to News Source, Solomon said "this is the exact reason why we want the region to be more involved in land selection and distribution and not leave that to Central Government."
Solomon explained that the Ituni area depends heavily on the forestry sector but residents have become agitated by the number of people from outside of the region who have been offered and given prime acres of land while residents "are at times given lands almost 100 miles from their businesses and homes and on the outskirts of the community", he added.
The Regional Chairman said the Ituni community has over 50 loggers but they find themselves shut out of the prime pieces of land.
Minister of Natural Resources, Robert Persaud who holds responsibility for the forestry sector dismissed the charges of discrimination in the land distribution process. He told News Source that loggers in the Region 10 community represent the largest group of loggers in the country and they have always been given preference when it comes to the distribution of land for logging.
Persaud however, said that he has been briefed by the Guyana Forestry Commission (GFC) about the protest and he has asked the Deputy Commissioner of the GFC to travel to Ituni today and meet with the residents. That meeting is scheduled for this afternoon in the area. He said he would like all of their concerns to be addressed.
Minister Persaud further stated that from the briefing he got from the GFC officials in the area, the protest may have more to do with an investigation into illegal logging in the community than it has to do with land distribution.
Ituni is located 36 miles South of Linden and the community depends solely on logging.