Exactly one week after seating controversy at the national flag raising ceremony, which led to a walk out by PPP Members, Opposition Leader Bharrat Jagdeo has issued a call for the issue to be put to rest.
The PPP had issued two press releases on the issue within 48 hours. 
On Wednesday Mr. Jagdeo hosted a press conference and began by saying that he personally believed it was time the issue be left in the past.
"We must not dwell on it, our country deserves better," he urged.
Jagdeo spoke directly to PPP members, supporters and the country at large and insisted that it was "time we put this behind us."
Reflecting on the moments leading up to the walkout after several PPP MPs and their families were left standing and without seats in the VIP seating area for several minutes, Jagdeo said the government, as organizers of the event could have done better. "It pains me to see this. It is our and it is the image of our country that is at stake," he added.
When asked about the perceived damage the walk out may have done to the image of the opposition party, Jagdeo said he don't believe his patriotism and that of the PPP MPs could be questioned. He said the MPs meant no disrespect to the country but was at the time reacting to the humiliation they had to endure. "As I said before, the night was a special night, people were happy, the mood was good. It's just the disorganization."
He believes the incident may have been designed to humiliate the PPP MPs but said it was at worst incompetence on the part of the government.
The opposition leader questioned why out of some 1000 VIP invitees, seats could not have been reserved for the PPP Parliamentarians.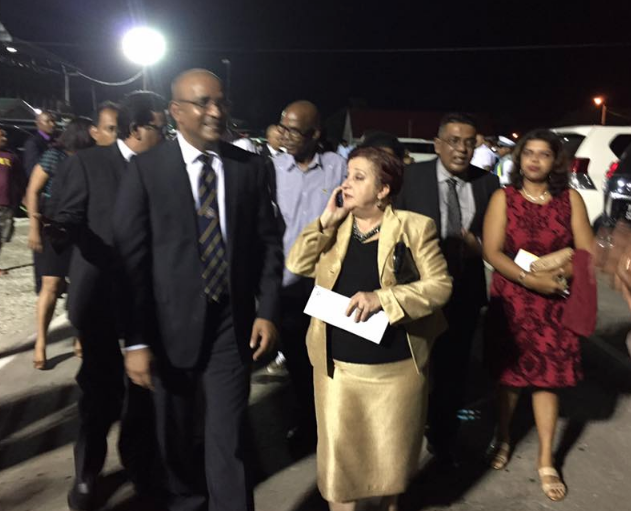 He said from what he saw, half of the persons in the VIP area were "revelers" who were taking pictures while the PPP members were left standing.
The Minister within the Ministry of Education, Nicolette Henry issued an apology and stated that when the issue was brought to her attention, she took it upon herself to find seats for the PPP members.
She said it arose because they all wanted to sit with the former Presidents.