Minister with responsibility for Culture, Nicolette Henry is not accepting any fault on the part of her planning for the walk out of the Opposition Members of Parliament, led by Opposition Leader Bharrat Jagdeo from Wednesday night's Flag Raising Ceremony.
Henry told News Source that it was "unfortunate" what happened but noted that plans were made to have all PPP Members of Parliament seated.
The Minister said the problem arose when they could not be seated together although seats were reserved for them  in the VIP seating area.
In one section of the VIP, the former Presidents and their wives were to be seated in the Presidential box while the other Members of Parliament would have been seated in the other section of the VIP.
Minister Henry said she took the opportunity herself to have them seated together after they complained about the separate seating but while she was doing that, the PPP MPs left.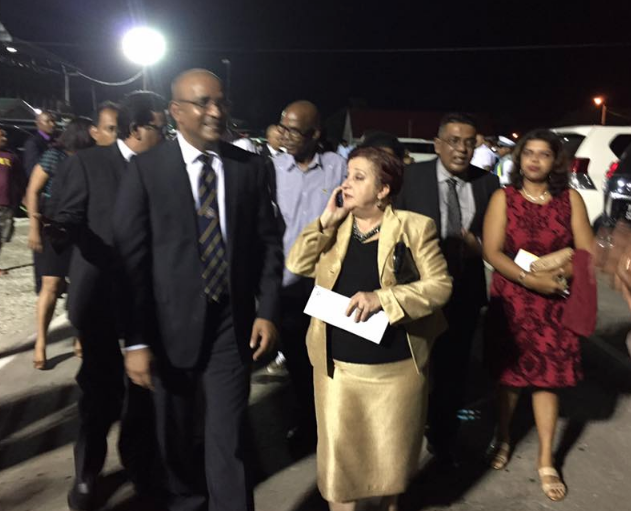 She explained that it should be noted that this was the first time the PPP MPs attended any of the events they were invited to for the 50th Independence anniversary.
"I suspect there is much more inside the mata than the pistle but I'm not privy to their thinking but I certainly wanted to make them as comfortable as possible," she said.
Henry called on the Members of the Opposition to demonstrate their willingness to work towards national unity. She said 50 years after Independence, the country's biggest struggle shouldn't be fighting for unity. "I want to tell the Opposition, don't let the person sitting in the chair 50 years from today have to cry and ask for unity, that would be a missed opportunity," she added. I
In a late night statement, the Opposition Leader said "on arrival at the VIP area tonight there were no seats set aside for the Opposition MPs, except for the two Former Presidents, Dr. Jagdeo and Mr. Sam Hinds and two other MPs. The majority of the MPs were left standing."
He said his party had repeatedly raised the issue of accommodation even before the event. The PPP Members even arrived at the ceremony in one bus and said that decision was taken because of the likely traffic problems. But while Jagdeo, Hinds and other PPP Members walked away from the ceremony, Immediate past President Donald Ramotar and his wife Deolatchmee remained and sat through the entire ceremony.
Ramotar may have been unaware of the Jagdeo led walk out when he arrived.