The new Chairman of the Police Complaints Authority, retired Justice, William Ramlall took his oath of office today.

In an address at the ceremony, President David Granger reminded that the appointment of a Chairman of the Police Complaints Authority is in compliant with the provisions of the laws of Guyana

He also said the appointment is consistent with the government's commitment to increasing public trust in the Police Force.

"The Authority can help to improve the level of public trust between the police and the public. The Authority is a critical link between the Police and the public. It provides a means through which the public can have its grievances against police malpractice addressed in an impartial manner by an independent person", the President said.

He noted that the Police Complaints Authority is a public defence against the Force's abuse of citizens' rights, adding that the Authority allows citizens to hold the Force's members accountable for their actions.

"The Authority can engender greater public trust in the Force by ensuring that the Force's actions are in conformity with respect for human rights, including the right to life and liberty – rights, which are guaranteed by the Constitution."

He said it will be expected that the Authority exhibits the qualities of impartiality, integrity and independence.
Justice William Ramlall, a retired judge of the Supreme Court, specialised in criminal and civil law, particularly in the areas of analysis and assessment of evidence, the writing of judgements and the interpretation of statutes, among other skills.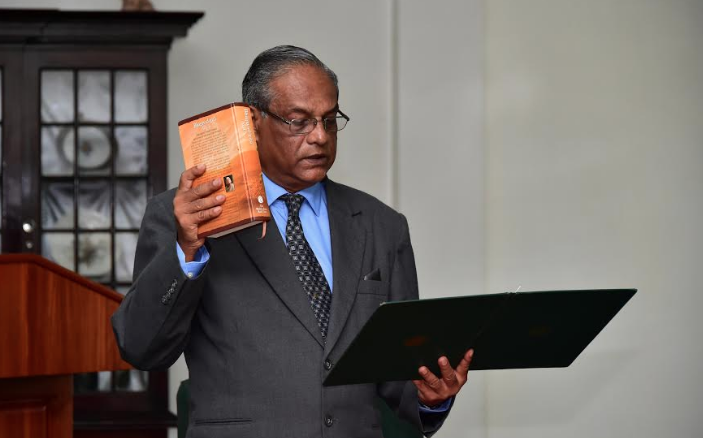 He also served as a magistrate for several years; a State Counsel in the Attorney General's Chambers; a teacher of Commercial Law and led a successful private practice.
The retired judge attended the University of Guyana, where he read for the Bachelor of Laws Part One before proceeding to the University of the West Indies Cave Hill Campus, where he completed Parts Two and Three.
He is also the holder of a Legal Education Certificate from the Hugh Wooding Law School and was a part of several professional training programmes.