Mashramani 2018 was launched on Saturday in Linden, Region Ten under the theme "Let's Cooperate and Celebrate Republic 48".
The launch brought together hundreds of Lindeners and visitors, embracing the Guyanese culture in form of dance, drumming, singing, dress and more.
Minster of Social Cohesion with responsibility for Culture, Youth and Sport Dr. George Norton delivered the feature address and said that he was happy to have the launching of Mashramani 2018 back where it began 48 years ago.
Dr. Norton noted that while the event is probably the most anticipated celebration in Guyana, he is calling for it to be one that is recognised regionally and internationally.
The Minister explained that "it must not only be one of the most prominent in Guyana, it must also be one of the most prominent in the Caribbean and that is not thinking too ambitious, it is the right way to think. We must take Mashramani as a product from Linden, that has become internationalised and like the other festivals, Mashramani from Linden has to take its rightful position."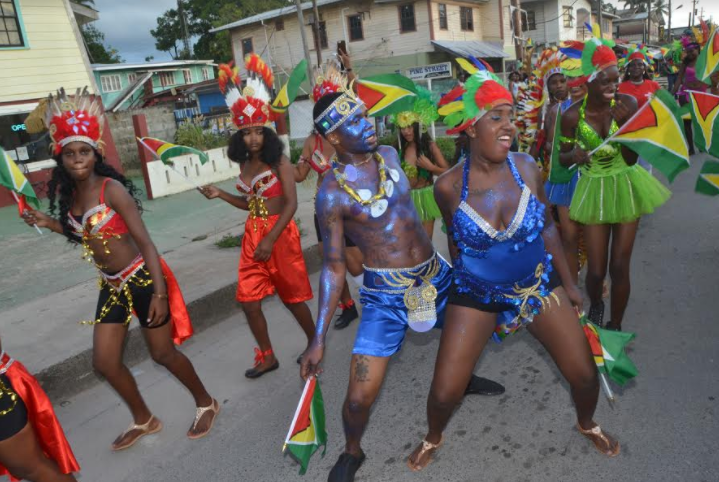 Dr. Norton also lauded the organisers of the event for having a large amount of youth involvement at the launch. He was particularly pleased with the diversity displayed in the launch programme. Mashramani, the minister said represents the essence of social cohesion.
Mayor of Linden Carwyn Holland, during his remarks called on residents of Linden to remain motivated and creative adding that it will last a lifetime just like that of Mashramani.
Holland shared the similar sentiments with the Minister stating that it is time Mashramani emerges as a brand renowned internationally. "Foreigners must not only actively plan to attend Carnival and Caribana but Mashramani as well; so that our culture, our craft, our fine local products, our eco-tourism, our hospitality and so much more can be popular internationally. We can build Mashramani as a brand that is irresistible" the Mayor explained.
He said that he is looking forward to seeing youth participation in the upcoming 2018 celebrations which will not only attract foreigners but also display and preserve the Guyanese culture.