President David Granger said that Guyana looks forward cooperating with the Republic of South Africa  in the area of climate change and environmental management as part of this country's continued push toward the development of a 'Green State'.
The President made these comments today following an Accreditation Ceremony at State House, where the new non-resident High Commissioner of the Republic of South Africa to Guyana, Her Excellency Xoliswa Nomathamsanqa Ngwevela presented her Letters of Credence to the President. "We look forward to sharing our experiences on the mitigation of the impact of global warming, the demarcation of national parks, the designation of protected areas, the generation of energy from renewable sources and the protection of wildlife with the Republic of South Africa," the President said.
The two countries established diplomatic ties on November 4, 1994 and President Granger highlighted Guyana's advocacy in support of the dismantling of apartheid in South Africa. "Guyana employed every available international forum, including the Caribbean Community, the Commonwealth, the Non-Aligned Movement and the United Nations, to agitate for an end to apartheid in South Africa. Guyana sponsored and co-sponsored resolutions, at the United Nations, which condemned this racist system and which called attention to acts of brutality committed against opponents of this system," the Head of State said.
Additionally, the President said that Guyana welcomed anti-apartheid politician Oliver Reginald Tambo to Georgetown in 1987, celebrated Nelson Mandela's release from prison in 1990 and celebrated the introduction of majority rule in the Republic of South Africa in 1994. "These events and achievements vindicated the solidarity between our peoples," President Granger said.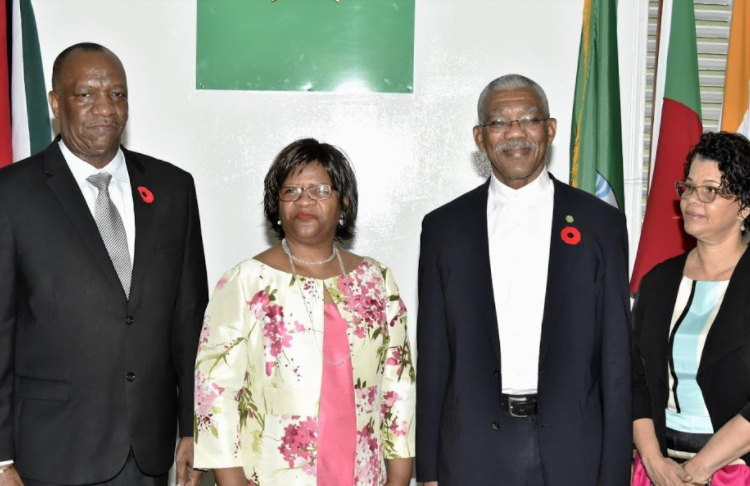 The High Commissioner stated that it is an honour to be chosen by her country to be the representative to Guyana and this part pf the world and that she hopes to make a difference in the advancement of the bilateral interests of the two countries.
"Your Excellency, as we all know, people to people relations are an integral part of state and government relations. Hence it is imperative that we find ways to boost tourism… because that is usually a catalyst to create linkages between people, businesses and institutions working together. We hope we can change that so our bilateral contact can improve," she said. The High Commissioner also noted that though the Republic of South Africa remains non-resident in representation to Guyana, that this would change some time in the future to support the expansion of political and economic diplomacy especially with countries of and with an African Diaspora.