President David Granger today said he does not intend to make a final decision on the GECOM Chairmanship until he would have completed full and meaningful consultation with the Opposition Leader, as required by the Constitution.
Speaking to journalists this morning, the President said he does not intend to rush the process.
"I am a man of great patience. This is a Constitutional matter that is important to Guyana, so I am not rushing and I don't want to bring the process to an end without both sides being satisfied and the public of course, also being satisfied", he told journalists.
Quizzed about whether he intends to meet with the Opposition Leader on the issue, President Granger noted that he has met with Mr. Jagdeo before and has no problem meeting with him again, but he believes that Mr. Jagdeo is seeking clarification on his position to reject the first list of nominees, and that clarification will be provided to him today through the Attorney General.
The President said he does not have any prejudices or preconditions when it comes to the appointment of the GECOM Chairman, but "I am waiting for the process to work. What I expected in the first instance that the list would have been sufficiently balanced, to allow me to make that choice but I don't have any name at the back of my mind or at the front of my mind", Granger said.
The Opposition Leader wrote the President last week, seeking a meeting on the issue after the president rejected his first list of nominees for the GECOM job, pointing out that the list of persons was unacceptable.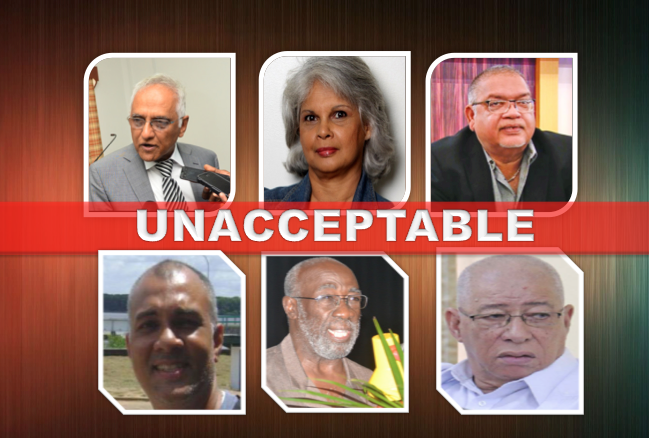 Jagdeo and the People's Progressive Party have since gone on a public relations blitz over the issue and believe that the President should have picked someone from the first list because all other former Presidents who were faced with the choice, did so from the first list.
The President wants Jagdeo to submit a new list that is in keeping with the Constitutional requirements for the job.  The Constitution requires the nominees to be persons who are serving as a Judge, served as a Judge or qualified to be a Judge or persons who are "fit and proper".
While the Opposition Leader's list did not include any Judges or persons qualified for that position, he said the list contained persons who are "fit and proper" for the job.
The President said all he saw was a list of six names.