President David Granger was back at the Parliament this afternoon to address the National Assembly and he laid out his government's plans for moving the country forward.
In an address that went on for close to an hour, the President announced that Budget 2019 will be presented in November and it will focus more on the administration's development plans, especially with the oil and gas sector on the horizon.
He said the Government has been taking steps to ensure that the revenues which come from the oil and gas sector will not be squandered but, instead, will be "invested strategically in building human and institutional capacity, addressing our infrastructural deficit and providing economic security for future generations".
Mr. Granger added that work is continuing on the Petroleum Commission Bill. He said it has been re-drafted and forwarded to the Department of Energy for review.
The President also touched on the area of crime and security, pointing out that the two remain challenges that are being continuously addressed by the administration.
He said the security sector has not yet fully recovered from the "damage done during the period which I refer to as 'The Troubles'.  Your government is committed, through security sector reform, to restore integrity to the Police Force."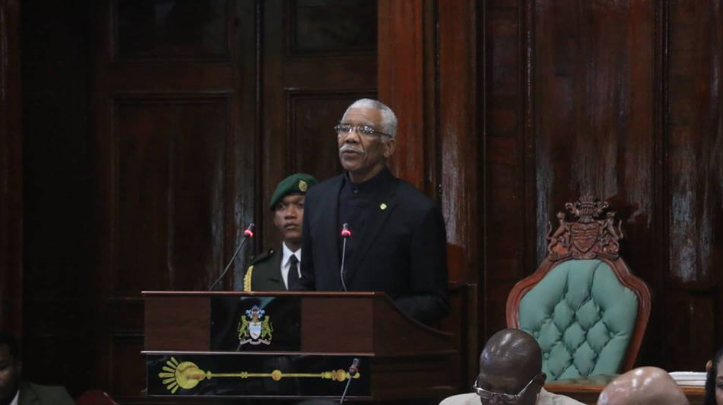 According to the President, security sector reform, with the support of the United Kingdom, has started and a new Force directorate is in place.
"Police administration is being decentralized with the alignment of divisional boundaries to regional boundaries.   The Commissioner and his team will be given the support to correct the abuses which have hitherto afflicted the Force", Mr. Granger noted.
President Granger also spoke about how his government has improved local democracy with the hosting of local government elections. The second local government elections since he took office is set for next month
He said moving into the new year, Guyanese "could expect confidently, that by the end of 2019, they would be able to live in a State with more secure borders; communities that are safer; in an economy that is more resilient; in a society that is more cohesive; with public services that are more accessible and constitutional agencies and institutions which enjoy the confidence and respect of the public".