President David Granger on Sunday doled out a total of $4.8 million to the Guyana Legion as he pledged his government's commitment to ensuring that every Guyanese veteran is guaranteed a dignified retirement.
The President was at the time attending a Remembrance Day Reception at the Legion's headquarters in Georgetown, to honour those persons killed in World Wars I and II.
This is the first time in 10 years that a serving Guyanese Head of State has attended the Legion's annual reception.
"I brought with me a few million dollars, some of which was promised in previous years but was never delivered," Granger said.
He explained that of the $4.8 million, a total of $1.8 is what was promised to the Legion. Granger, who is a former Guyana Defence Force Commander, said another $1M is a personal gift from himself while $1M will go towards repairs and rehabilitation of the Legion's building. Another $1M is for the National Veteran's Resting Home.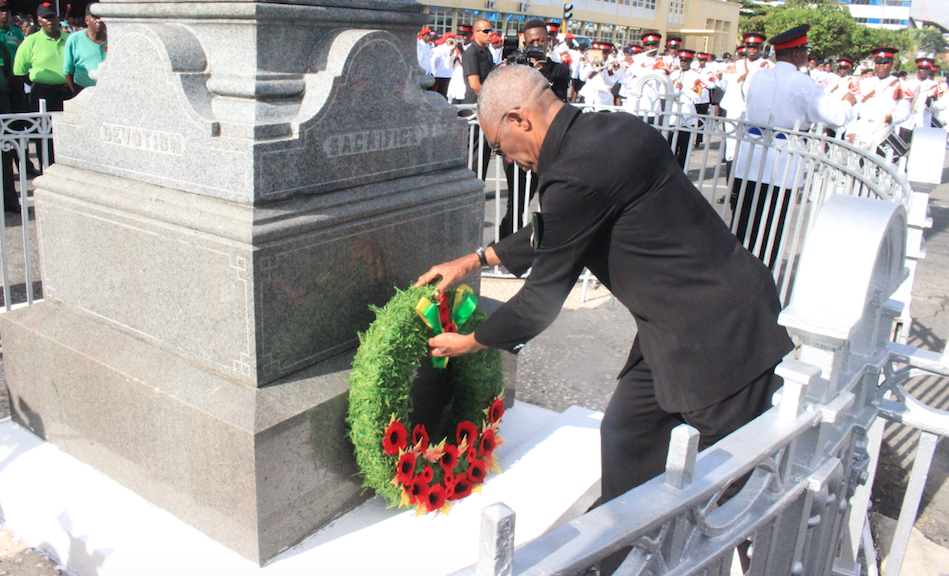 The President was stern in his commitment to ensuring that veterans are well taken care of. He said the Legion will receive a fixed state subvention annually.
According to the President, the time has come for veteran's rights to be placed on stable footing and he announced that a National Veterans Commission will become operational from November 21, 2014.
The Commission is expected to examine the conditions under which Guyanese veterans currently live and make recommendations for improving those conditions.
In November 2013, while serving as Opposition Leader, Granger had successfully moved a motion for the establishment of such a commission but the resolution was never assented to by the former President.
Mr. Granger also announced the setting up of a Veterans Trust that will among other things procure land for housing and agricultural purposes.
The President said all ex service men and women must receive all benefits due to them and also promised the passing of a Veterans Act.
"Guyana owes a debt of gratitude to all veterans… we have an obligation to protect them from unemployment, poverty and disease when they grow old," he added.
The cheques were handed over on spot to the Legion's President, George Gomes even as Mr Granger reminded of the threat being posed to Guyana's territorial integrity and the need for vigilance.
The President said "we cant afford to blink or close our eyes to the threat at our borders, we cannot cede our territory or sea space."
Gomes told the gathering which included the British, Canadian and United States Heads of Mission that an average of 80 Guyanese veterans are presently categorized as shut ins but warns that as time progresses these numbers are expected to rise and similarly the support.
He pledged the support of all members of the legion to supporting the government's efforts in defending the country's borders and patrimony.