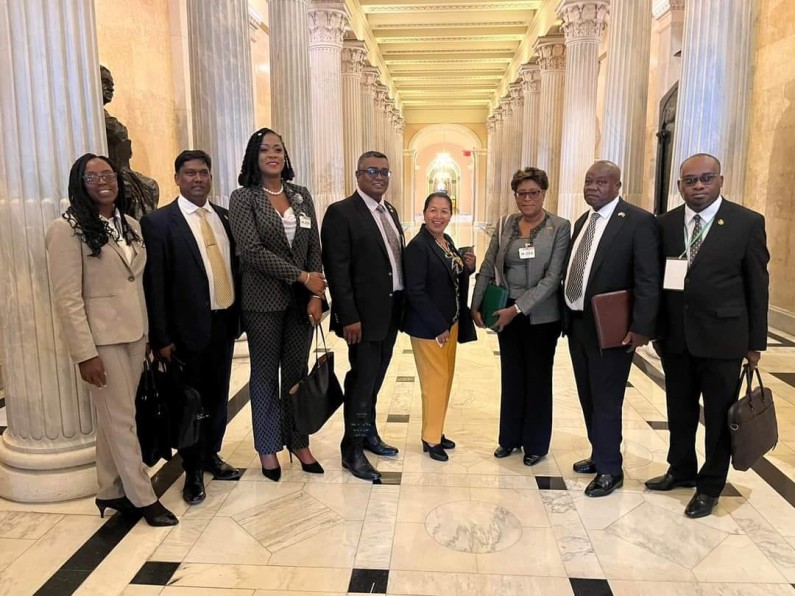 Opposition Leader Aubrey Norton and a team of Opposition Parliamentary members met and held discussions today with a US Congressional team at the US Congress in Washington.
After the meeting, Mr. Norton said he believes the meeting went extremely well as the team was able to make several issues known to the US officials.
Mr. Norton said "we were able to identify the critical issues in Guyana, we were able to give them a clear vision of where we want to take Guyana and I think there was a healthy exchange. We understand some of their interest, where the confluence of interest lie and we will pursue those issues".
The meeting with the US Congressional Leaders today come just one week after President Irfaan Ali and a Government team held a similar meeting with US Congressional Leaders in Washington during a 3-day visit.
Mr. Norton explained that during the Opposition's meeting with the US officials, the Opposition was asked about its own development plans for Guyana. He said the Opposition shared information about that plan and presented a document on their plans to the Congressional Representatives.
"There was also a wider dossier that we left, that would put all of the issues in Guyana into context", Norton said.
The Opposition Leader also said that the Opposition team made it clear to the US Congress officials that the Government of Guyana does not practice inclusivity.
"They indicated to us that we need to work towards inclusivity and we made it clear that we are disposed to inclusivity and in our presentation we identified the fact that the Government fails to be inclusive, they tend to be arbitrary and they seem to want to control all of the political, economic, social space and just dominate the society", he said.
Mr. Norton said the Opposition also used the meeting to highlight issues related to the Guyana Elections Commission and Elections in Guyana. He said they pressed for support for a clean voters list and for the introduction of biometrics at polling stations for future elections.
Members of Parliament Roysdale Forde, Cathy Hughes, Ghanesh Mahipaul, Amanza Walton-Desir, Dawn Hastings-Williams, Nima Flue-Bess and Deonarine Ramsaroop were the other members of the Opposition that attended the meeting.
MP David Patterson was blocked by immigration from leaving the country and missed the meeting. The Guyana Police Force which overlooks the Immigration Department has since apologised for that decision.