A porter attached to the Palms Institute for the elderly was talked out of jumping to his death on Friday as he protested from the roof of the three storey Brickdam building and threatened to jump to his death.
The man has been identified as Dillon King. Co-workers believe that he may have been under the influence of alcohol forced a shut down of the institution as the police and fire service were called in to lend assistance. He climbed to the roof of the building just before 1 o'clock in  the afternoon and remained there for just over an hour as he vented his discontent with his working conditions and the money he was being paid.
Firemen arrived on the scene and scrambled to place a ladder to the roof and brought out several mattresses just in case the man decided to jump.
A police officer climbed to the roof of the building in an effort to get the man down but the man warned that he would jump to his death if the police officer approached him. The policeman kept his distance as co workers and patients of the institution pleaded with him to come down. He complained bitterly about the 5% wage offer to public servants by the Government, saying that public servants should be given nothing less than 15%.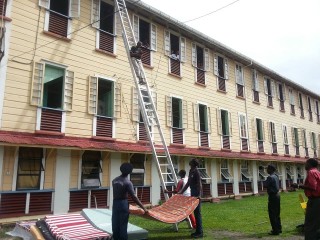 He also vented frustration about the way he was treated at his workplace and the continuous abuse of women in the country. At one stage he said "whether drunk or sober, any man who knock a woman will have to answer to me, I don't like that".
A large crowd gathered outside of the compound and eventually the firemen along with the man's co workers were able to get him to climb down the ladder.
He was immediately arrested by policemen on the scene and taken to a section of the building to be questioned.
One of his co workers explained that since the man's mother died a year ago, he has not been the same. She said he has been very depressed and would often talk about how he misses his mother.
"They should not lock him up, they should try to understand what he is going through", she said.
In Guyana attempted suicide is a criminal offence.