Even as the Movement Against Parking Meters is pressing for a complete revocation of the City Council's parking meter contract with Smart City Solutions, the municipality has announced that it intends to slash the price for parking by 50%.
Town Clerk, Royston King, has confirmed that motorists will be charged $25 plus VAT for 15 minutes of parking instead of the current $50 plus VAT rate.
Additionally, persons will be allowed to have their parking time rolled over, meaning if they would have used up only a fraction of the time they paid for, they will be able to use the remaining time at another parking space.
The Town Clerk also said special monthly passes are to be introduced and some business places including commercial banks, will be allowed to have their employees utilize parking spots in front of the business places for free.
But the Town Clerk's announcement is not budging the Movement Against Parking Meters from its position that the entire contract should be scrapped.
Spokesman for the Movement, Christopher Chapwanya, told News Source that "guided by the Government's review on the parking meter agreement, which cited numerous shortcomings in the terms of the contract and possible breaches of the tender and procurement process, MAPM remains resolute that the contract must be revoked".
The Ministry of Finance and the Attorney General's Chambers had both slammed the parking meter contract that the City Council signed with Smart City Solutions.  Both government ministries opined that the contract heavily favoured the investor over everyone else.
The City Council has been claiming that the contract has since been amended, but last week, the government once again expressed concern over the contract and the by-laws governing the parking meter system for Georgetown.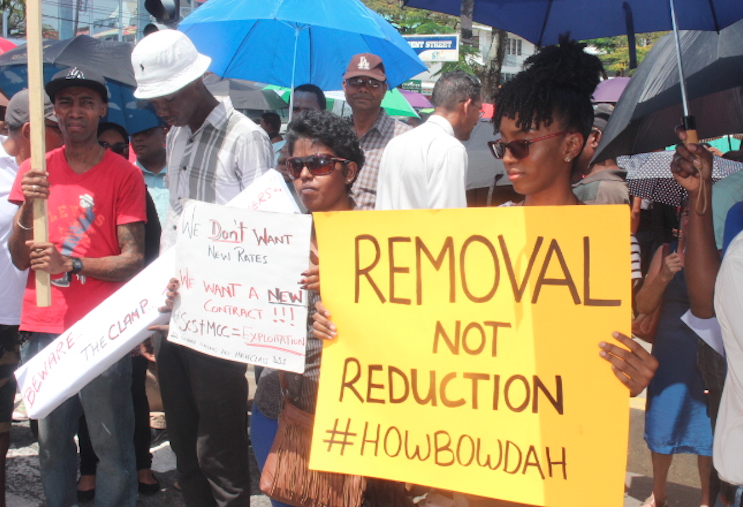 President David Granger during a recent television interview, said his government is not satisfied with the general provisions of the parking meter project.
He said the government wants the City Council to take another look at the contract and engage with civil society and the business community to come up with a project that would be welcomed by both sides.
Already, the Hand in Hand Insurance Company, has moved to the courts to block the by-laws governing the parking meters.
On Friday, it was announced that the clamping of vehicles and several aspects of the by-laws have been suspended.