The Guyana Police Force on Friday afternoon bid farewell to retiring Police Commissioner Leroy Brumell at a special parade in his honour at the Police Sports Ground, Eve Leary.
Brumell who became acting Commissioner of Police following the resignation of Commissioner Henry Greene in 2012 was confirmed in the position last October. He had one of the shortest stints as Commissioner of Police.
In his farewell speech, Brumell said "The force needs to go back to the founding principles of service and protection and officers must strive to regain the trust of the people they swore to serve".
He encouraged police officers to set shining examples for the youth population by being role models who are worthy of emulating. He said that, "for far too long the force has taken a beating, we must try to change that.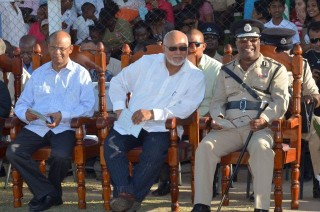 The retiring Commissioner spoke of the newly established Special Weapons and Tactics (SWAT) Unit, which he referred to as a new breed of officers who will be tasked with the maintenance of law and order in society. He has cautioned the Unit about getting involved in situations and activities that could bring their character and the unit into question.
When he was confirmed as Commissioner of Police, Brumell promised to "take back the streets" from criminals.
There was the break up of violent gangs but he is leaving the Police Force at a time when violent crimes, murders and robberies are all on the increase.
He believes the Force will have to employ new tactics in taking on the crime fight.
Minister of Home Affairs Clement Rohee recently praised Brumell for his leadership of the Guyana Police Force, remarking that he leaves the Force with a good record and with a lot of respect in tact.
Mr. Brumell has indicated that he now intends to enjoy his full retirement.