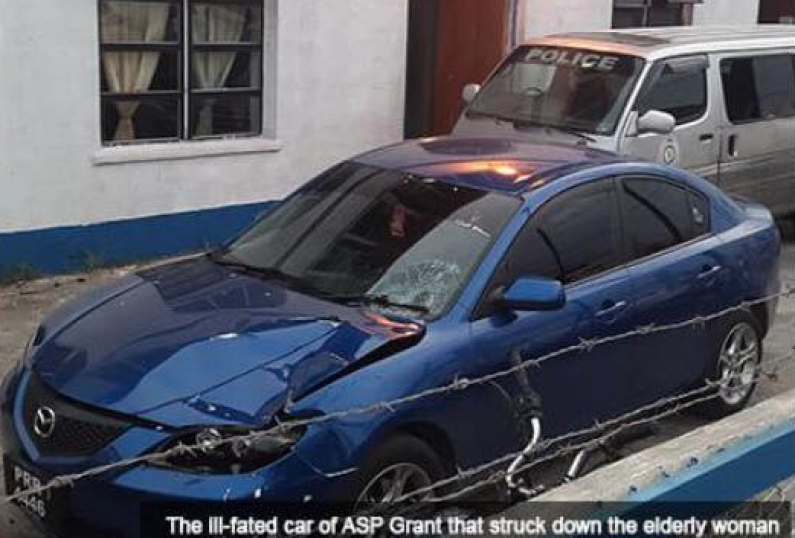 As the Police continue their investigations into the fatal accident on the West Bank of Demerara that left a 65-year-old woman dead after she was hit down by a car being driven by a Police Officer, the Attorney for the Assistant Superintendent, James Bond claims that his client was not speeding at the time of the accident.
In a statement on Facebook, the Attorney said the speed limit in the area is 50 kilometres per hour and his client confirmed that he was driving approximately between 30kmh and 40kmh when the accident occurred.
The left side of the sports car that was being driven by the officer has damages to the fender, left light, bumper, bonnet and wind screen.  Bond said those damages could have been caused by "other factors besides speeding".
Bond also said "there is absolutely no statement by any eyewitness that says the officer was or might have been speeding! There is also no evidence to suggest she was in the corner of the road. Saying he veered off the road cannot suggest speeding but it could suggest an attempt to avoid the collision".
Traffic Chief Dion Moore, told News Source this morning that he is hoping to wrap up the investigations by the end of the day so that the file could be submitted to the Director of Public Prosecutions by Thursday for advice.
Moore did not want to offer details on the investigation because it is still active, but he noted that from all appearances, the woman was walking to the side of the road when she was struck down by the car that ended up in the lane where she was walking.
He said the policeman remains in custody and because of his rank in the Force, he was relieved of his duties following the accident.
In a statement on the accident last evening, the Guyana Police Force said "enquiries revealed that the car was proceeding west on the southern driveway and the pedestrian, 65-year-old, Anmanie Deonarine of Vreed-en-Hoop, W.C.D was walking east along the said southern side of the road, when it was alleged that the car veered further south and struck down the pedestrian who was picked up and rush to the West Demerara Regional Hospital where she succumbed whilst receiving treatment."
Bond said his client is sorrowful and has extended condolences to the family of the dead woman.
(Guyana Chronicle photo)