The governing People's Progressive Party/Civic rolled out its plan for developing Guyana at the taxpayer funded Marriott Hotel on Saturday .
The "Guyana Version 2.0" plan documents how the party intends to institute several programmes and policies.
The pages of the document were occupied with scores of transformational promises and intended policies for economic growth, the creation of jobs and wealth and the advancement of education and security which the party boasts are "realistic, achievable and builds on existing accomplishments."
 Guyanese can look forward to the construction of Call Centres in Enmore, East Coast Demerara, Tushen, West Coast Demerara, Corentyne, Linden and Essequibo Coast under a new PPP Civic administration.
These call centres will create more than 5000 direct jobs, according to the PPP/C.
The PPP is also looking at constructing Chip Factories in Wakenaam and Leguan. These factories are expected to create more than 40 direct jobs for women and youths.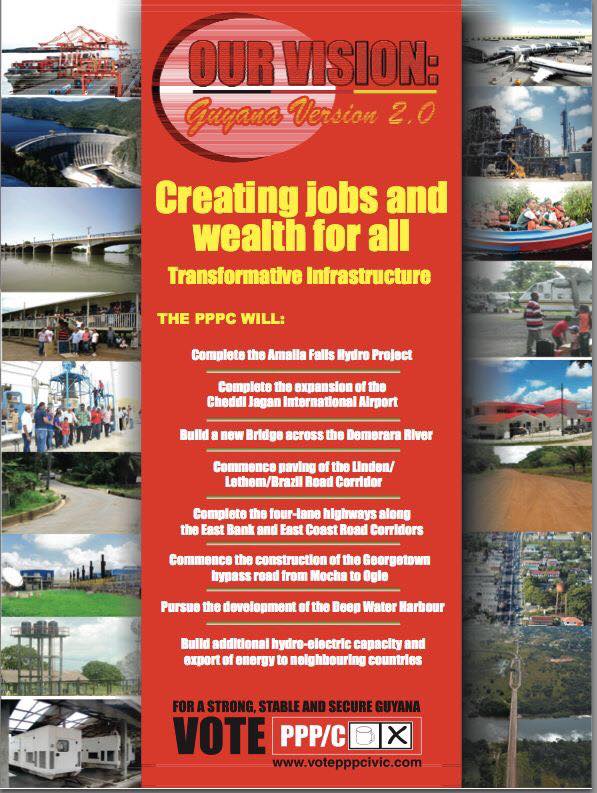 Additionally, a Cereal Plant is to be built in Anna Regina along the Essequibo Coast. This plant is expected to generate a high degree of economic activity in Essequibo and create 80 direct jobs.
The PPP believes the manifesto sets out "how we will win the battle to ensure that our traditional industries – including sugar, rice, forestry and mining – be viable, prosperous and generate decent work in the face of very difficult global challenges."
 The ruling party in its economic plan promises to create a special development fund for Regions 2, 5, 6 and 10, patterned after the Amerindian Community Development Plan to encourage jobs and wealth creation activities.
The "Guyana Version 2.0" also looks at the establishment of Bank micro-credit facilities for small and medium size business and development projects while at the same time incentivizing Guyana's banking system so that it works for the greater benefit of businesses in agriculture, services and manufacturing.
The ruling party plans to craft a new industrial programme for coconut, cassava, pepper and bamboo, implement value added initiatives for the forest industry and promote the packaging and processing of agriculture products – food, cosmetics and medicines, crafts and agri-energy products.
The PPP/C also plans to establish manufacturing and processing plants to use cassava, rice and plantain for value-added commercial markets and says fiscal incentives will be provided to medium and small enterprises, especially to encourage investment in the manufacturing sector.
The party also intends to push ahead with the Amaila Falls Hydro Power Project once elected, in order to deliver cheap and reliable energy and push for an increase in the number of people owning their own low income homes.
It will also focus on ensuring Universal Secondary Education and a vastly improved University of Guyana.
Efforts will continue to go into the airport expansion project and the construction of a deep water harbor along with the Linden to Lethem road, according to the manifesto.
Women issues will be prioritized, including new dedicated efforts to reduce sexual and other forms of domestic violence and promises that all outstanding Amerindian land titling requests will be addressed and all Amerindian communities will secure investment in their home-grown Community Development Plans.