by Gordon Moseley in Bridgetown, Barbados
In what may probably be his strongest statement on the ongoing threats to Guyana's territory by Venezuela, President of Guyana, retired Brigadier David Granger blasted Venezuela's continuing claims to Guyana's territory and said it is time for CARICOM to let its commitment to Guyana be known when it comes to that issue.
The President used most of his speech at the opening of the CARICOM Heads of Government Meeting in Barbados on Thursday evening, to make clear Guyana's position on the Venezuelan decree, which seeks to claim Guyana oil rich waters.
 "Guyana, even as it approaches the 50th anniversary of its independence next year, hand in hand with its sister Barbados, is still carrying a monkey on its back. That monkey is the unbearable burden of an oppressive and obnoxious claim to our land and sea space", Granger said.
The President said CARICOM has been source of solace and steadfast support for Guyana's territorial integrity over the years, "we never needed that support more than now".
He said the claims by Venezuela has affected Guyana's economic development over the years and that ought not to continue.
"Guyana's border with Venezuela was fixed 116 years ago. It was determined, it was defined, it was delimited, it was demarcated by international arbitration. Maps were drawn, atlases were adjusted, border markers were cast in stone".
He said Venezuela must be condemned for its repudiation of the international agreement. President Granger said the Venezuelan decree just does not affect Guyana but also affects the Exclusive Economic Zone of a number of CARICOM states including Barbados and Trinidad and Tobago.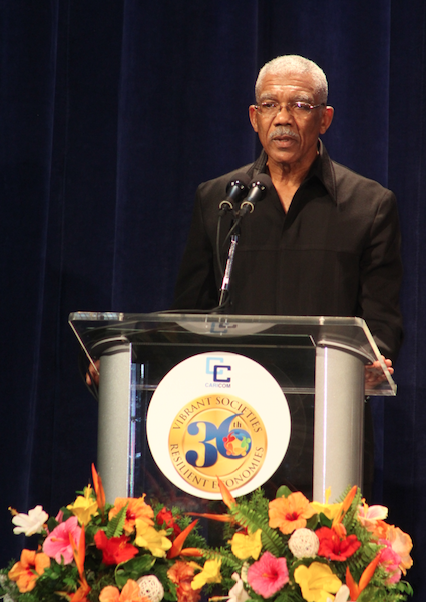 Granger noted that Venezuela has become more aggressive over the years and continues to threaten the economic development of Guyana. CARICOM, he said must assert its solidarity with Guyana.
CARICOM has come under criticism for its apparent silence on the Venezuelan issue. The Secretary General of CARICOM, Irwin LaRoque while not raising the issue in his address to the meeting, told reporters before the start of the meeting that there is no reluctance on the part of CARICOM and in some cases, quiet diplomacy is the way to go.
The President of Venezuela is expected in Barbados on Friday to hold talks with regional leaders. President Maduro is also expected to hold talks with President David Granger who has made it clear that the decree must be withdrawn.
LISTEN to President Granger's Full Speech to CARICOM Leaders by clicking HERE
Coverage of CARICOM Heads of Government Meeting in Barbados compliments of LIAT and the Guyana Telephone and Telegraph Company.