Family members of an inmate of the Camp Street jail are furious that prison authorities have not taken the man to the hospital after he was badly chopped about his body by two other inmates.
A close relative of prisoner Tambico Mackenzie reached out to News Source to voice the family's total dissatisfaction with the way the man had been treated after being injured.
According to the relative who wishes to remain anonymous, the incident took place last Thursday in a cell at the jail house.
The incident was reportedly triggered by an earlier argument between some inmates and Mackenzie was attacked with the cutlass while sleeping.
The relative expressed shock that prisoners would have dangerous weapons like cutlasses in the jail to carry out such an act. The relative provided News Source with photographs of the chopping incident.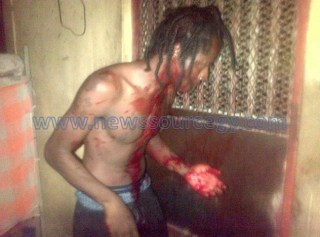 Those photographs were reportedly taken by another prisoner who witnessed the incident and took the photos on a mobile phone, which is also prohibited in the jail.
The injured man has just a few relatives in Guyana and they are all concerned about his safety in the jail following the incident.
Mackenzie is currently a remand prisoner at the facility. He was remanded to prison back in February after being charged in a robbery case.
There continues to be concern about the security and safety of prisoners and staff at the Camp Street facility.
Just recently prisoners set fires to mattresses during a loud evening protest. In the past, a number of improvised and original weapons have been seized from prisoners.
Efforts to get a comment from officials at the Georgetown Prisons proved futile. News Source was told that all senior officials were involved in a meeting on Wednesday morning.
Filed: 25th March, 2015