A fiery protest was launched in Buxton this midday after a CANU operation that saw the arrest of a well known resident of the community and agents opening fire during a chase of the suspect.
Buxtonians complained that during the CANU operations, agents were shooting indiscriminately, triggering the protest action.
In a statement, the Ministry of Home Affairs said warning shots were fired by Law Enforcement agents after they chased behind a speeding drug laden car.
The car eventually came to a stop after the driver lost control and ended up in a trench. The marijuana trafficking suspect was arrested and taken into custody. Over 50 pounds of marijuana was discovered in the car.
When the protest began, the Police responded immediately, but officers kept a safe distance as residents moved old tyres and debris onto the roadway and set them afire. A heavy duty truck that was reportedly being driven through the road blockages was also set ablaze.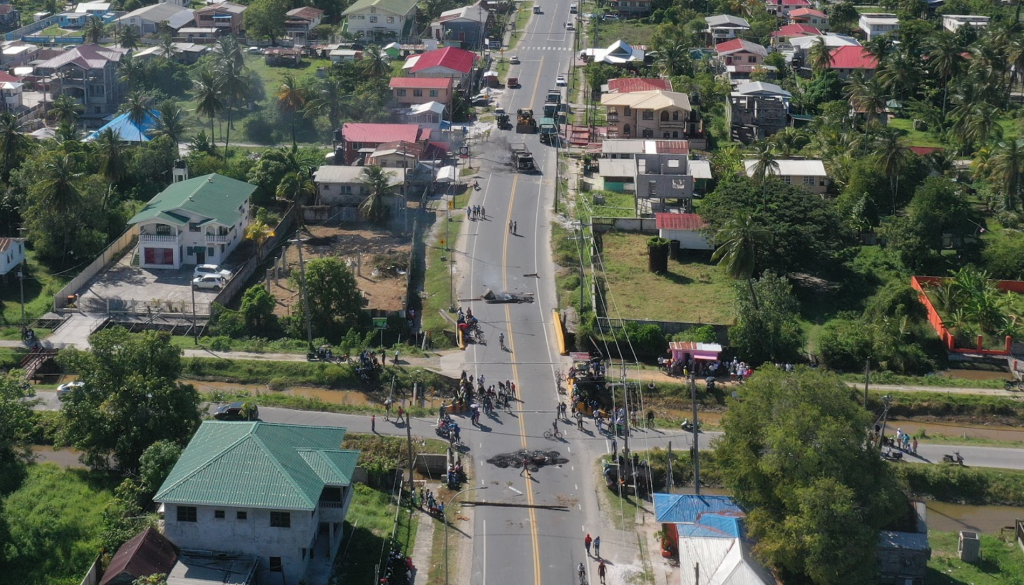 The Police Commander for the area,  Assistant Commissioner Khali Pareshram was on the ground and sought meetings with leaders from the Buxton community in the efforts to quell the protest action. He said he did not see a need for excessive Police Force, and preferred to engage the residents and listen to their concerns.
As the roads remained blocked, the Joint Services were summoned and assisted in clearing the debris from the main road as well as the embankment, allowing traffic to flow again.
The protest lasted for over four hours.