As anger continues over the brutal killing of West Berbice teenagers, Joel and Isaiah Henry, protests calling for justice have been spreading to a number of villages and in some instances have become violent.
The Guyana Police Force reported this afternoon that trucks were set on fire in the Hopetown area and other vehicles were damaged during road blocks and protests.
There were also reports of persons being attacked during the protests. One man complained that he was badly beaten and robbed of his cellphone and other belongings in the Hopetown area.
The Police are probing the report.
Home Affairs Minister Robeson Benn in a statement this afternoon said there have been repeated incidents of motorists being attacked and their vehicles being damaged in a number of areas.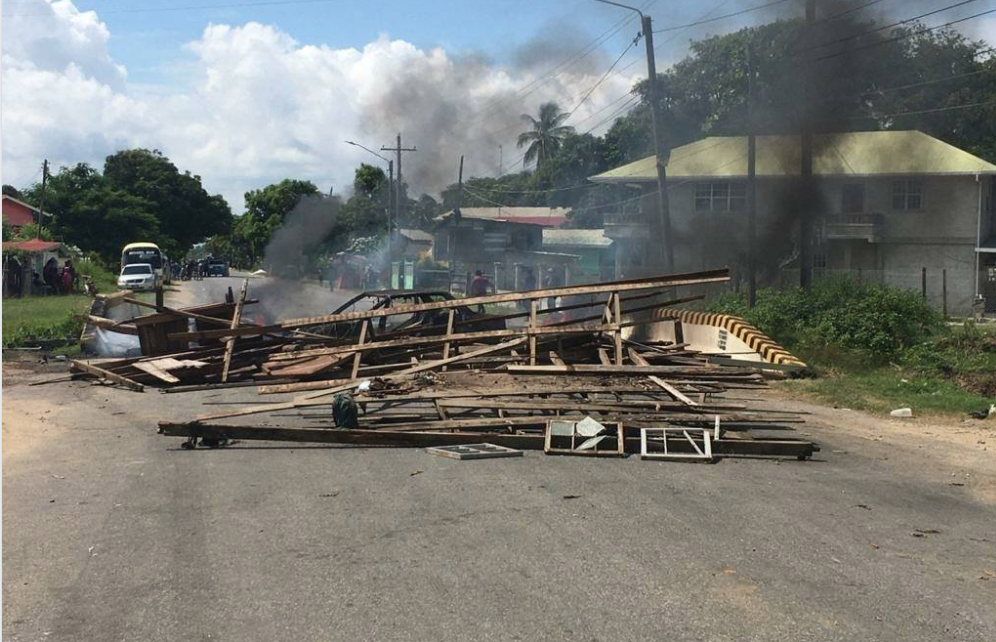 "I continue to urge the Guyana Police Force and all law abiding persons in the area and beyond to lend support and to continue the task of restoring order to the area and so that commuters can be safe and normal activities could be conducted in safety", Minister Benn said.
The Home Affairs Minister said as the protests continue and as efforts continue to bring calm to the West Berbice area, he would like persons with influence to assist in ensuring normalcy and calm return to the communities as the investigations into the double murder continue.
The Guyana Police Force announced this morning that its ranks on the ground were being joined by the Guyana Defence Force in the efforts to clear the main roadways which were being blocked by protesting villagers.
Last evening, the Police used tear gas and pellets to force protesters to retreat.
Family members of the two teenagers have been calling for peaceful protests, but the situation in a number of West Berbice villages have become concerning as roads were repeatedly blocked today even after the Guyana Defence Force joined the Police in efforts to clear the roadways.