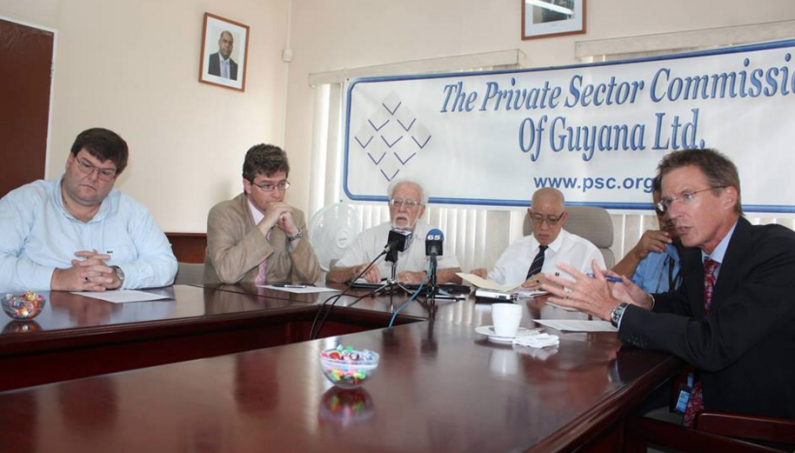 The Private Sector Commission (PSC) and the Diplomats representing the United States, the United Kingdom and Canada parted ways on Friday on the issue of Guyana's ranking on the Corruption Perception Index.
The PSC rejected Guyana's undesirable classification over the years and claimed that the methodology used by the international corruption monitoring body, Transparency International, was not objective and professional.
PSC member Captain Gerald Gouveia said there was a failure of those compiling the Index to formally consult the Private Sector in Guyana. But the Western Diplomats insisted that the Index is a useful tool to both measure and fight real corruption.
British High Commissioner to Guyana, Greg Quinn said the perception index in his view was interesting, useful and relevant.
"It tells us what people feel and if people feel there is a corruption problem then it is big enough an issue to be addressed," he said.
The British High Commissioner also insisted that the results of the index were valuable and useful. Mr. Quinn was backed up by Deputy Chief of Mission of the U.S Embassy in Georgetown, Bryan Hunt and the Chargé d'Affaires of the Canadian High Commission in Guyana.
The Western Diplomats have offered past and present Guyana governments support to fight against corruption in Guyana.
But the PSC insisted that the index was lopsided because it failed to consult the body. "Any corruption in Guyana means that the private sectors will be at the middle of it and we should be consulted," Gouveia lamented.
He said the Corruption Perception Index was damaging Guyana's image and registered the PSC's displeasure.
The PSC now wants the government to do what is necessary to counter the perception by operationalizing the Integrity Commission and the Public Procurement Commission.
In January, Guyana was again considered a country where there is a high level of corruption, according to the 2015 report coming out of Transparency International.
The group ranks various countries on its corruption index. Guyana is ranked at 119 out of 168 on the corruption perception index. In the 2014 report, Guyana was ranked #124.
Guyana has found itself in the company of Russia, Azerbaijan and Sierra Leone. Over the years, the country has been featured as one of the most corrupt in the Caribbean.