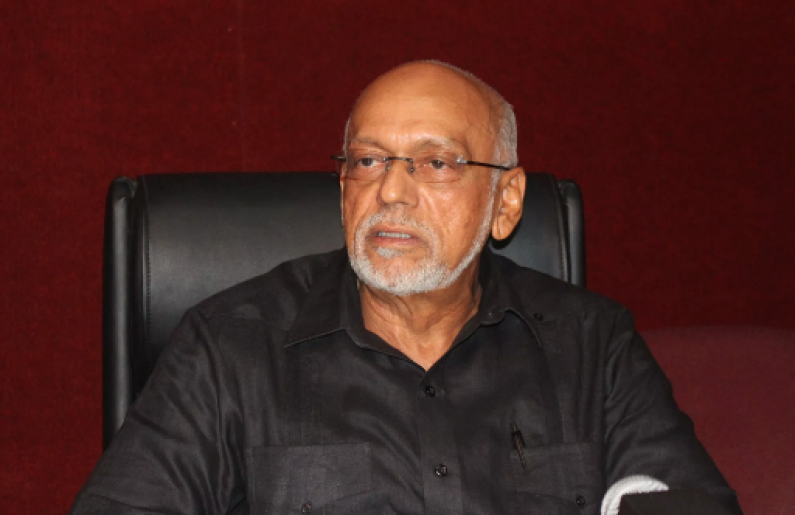 Former President Donald Ramotar is not happy at all with the Court of Appeal's recent decision to back the High Court ruling that there was nothing unlawful with the President's appointment of the Chairman of the Elections Commission.
The Opposition People's Progressive Party, through its Executive Secretary had moved to the Court in an effort to get a recall of the appointment of the Elections Commission's chairman.
Today,in a letter to the press, Mr. Ramotar said the Court's deision is backward step.
"It is another incident pushing our country along the road to social and economic ruination and towards an authoritarian Government. I was very much part of the coinage of Article 161 (2) and, therefore, I have personal knowledge of the reasons behind it, the way it evolved to its current expression and the way that it was interpreted and applied in the past. It was never ambiguous and never evoked any controversy over the last 25 years", Mr. Ramotar said.
He added that the Constitution was amended to remove the unilateral power of appointment from the President and to introduce the Leader of the Opposition into the equation, in order to achieve political consensus and to widen the pool of persons from which the Chairman is to be chosen.
"What is so difficult to understand? I am sure that every objective minded Guyanese knows this. In the 1999-2001 constitutional reform process, all the political parties unanimously agreed to constitutionalize this Carter-Price formula. In fact, it is the PNC that led the charge. Its major argument then was that it was important to cement the role of the Leader of the Opposition and to curtail the President's power of appointment. Now that they are in Government, they are seeking to exclude the Leader of the Opposition and increase the power of the President. Therein lies the ideological authoritarianism, which exists in the belly of the PNC".
The former President sought to attack the judiciary by stating that the coalition government now seem to be getting help from the Judiciary,
He said he will never accept that the Court of Appeal does not know the intent of Article 161 (2) of the Constitution.
Mr. Ramotar is supporting his party's decision to take the issue to the Caribbean Court of Justice, pointing out that "fortunately, the Guyana Court of Appeal is no longer our final court. We now have the Caribbean Court of Justice. This is an important case for that Court. I am looking forward to the decision of that Court, as I know that the matter is going there".
Over the weekend, Opposition Leader and Former President Bharrat Jagdeo also expressed his displeasure in local Court's ruling.
At a political rally, he said the Caribbean Court of Justice's credibility will be on the line when it takes evidence and offers a final decision in the matter.