At the age of 80, a now visually impaired, retired Lieutenant Colonel Compton Hartley Liverpool, has launched a book that captures a tremendous amount of detail of events leading up to the formation and the earlier times of the Guyana Defence Force (GDF) as well his own experiences while serving in the local military.
It is hoped that the book will serve as motivation for serving ranks.
Lt Col(ret'd) Compton Hartley Liverpool is one of the few Guyana Defence Force soldiers, though seldom required to take the battlefield, who has gone down in history as one of the bravest sons of the soil to have served in the GDF.
On Monday evening, the book titled "Foundation of the Guyana Defence Force- A Soldier of Valour Story" written by himself and co-authored by Khalilah Campbell was launched at GDF Headquarters, Base Camp Ayanganna.
Lt Col(ret'd) Compton Liverpool was unable to attend the ceremony since he is recovering from a recent heart surgery but communicated to the audience via Teleconferencing .
Briefly he explained that the book was more than part of the history of Guyana and the Guyana Defence Force. He said the book was dedicated to all soldiers past, present and future and he hopes that every rank would see the need to have one.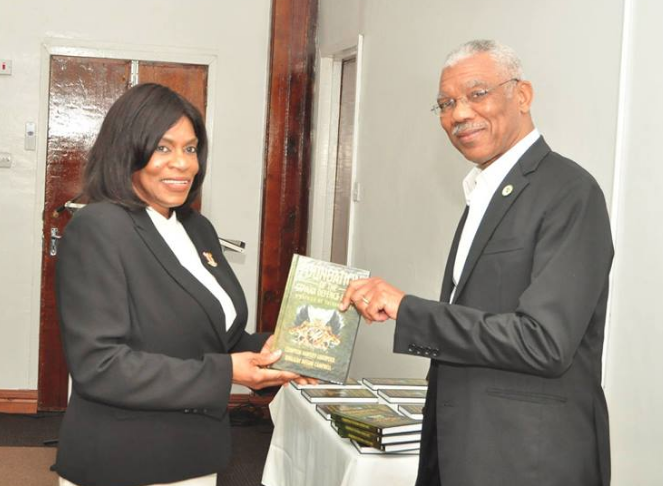 It presents insight to a number of events, some unknown to anyone else other than to Lt Col. Compton Hartley Liverpool.
His climb up the military ladder was remembered as phenomenal, starting with his appointment to the rank of Corporal in November 1965 right up to the rank of Lt Colonel before his retirement.
Liverpool was the first Guyanese to win the 'Best Student Cup' at the All Arms Drill Course at The Grenadier Guards Barracks in Caterham, Surrey, UK.
He distinguished himself when he acted boldly as a nose gunner of an aircraft.
It was reminded that on the morning of August 19, 1969, while aboard a DHC, a 6 De Havilland (Twin Otter) aircraft, Colonel Hartley assumed a sitting position in the nose of the aircraft armed with a powerful General Purpose Machine Gun (GPMG), en route to the area of operation from Apoteri, Rupununi River area.
His bold action and heroic disregard for his own safety coupled with his brave actions while in the air as he provided aerial support, has been lauded time and time again.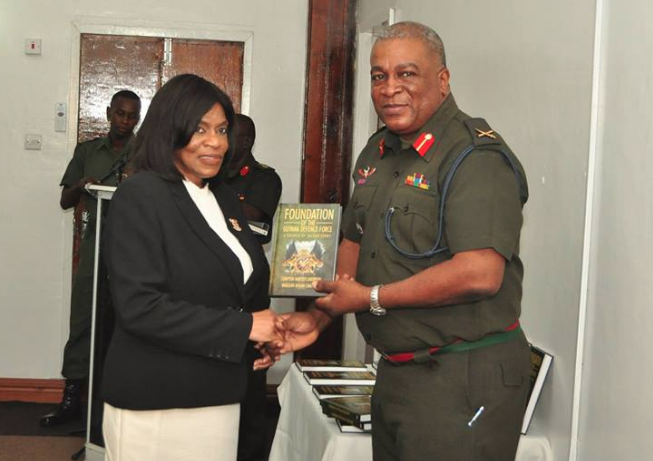 For his valiant effort, he was awarded the Military Service Medal (MSM) for Valour in May 1970.
Co- author of the book, Khalilah Campbell, was on hand for the launch and presented President David Granger with a copy of the book.
Also receiving copies were Minister of State, Joseph Harmon , Education Minister, Dr. Rupert Roopnarine and Chief of Staff, Brigadier Mark Phillips .
Former Chiefs of Staff and other Retired Members of the Force were also presented with copies the book.