Beaming through the clear morning skies, start up Surinamese airline, Fly Allways launched its schedule service to Guyana on Tuesday, boasting of its safety and comfort.
The airline, which operates two 80-seater Fokker 70 airplanes, will be flying between Suriname, Guyana and Barbados. Guyanese will now be able to have an additional choice for non-stop service to Suriname and to Barbados from the Cheddi Jagan Airport.
The inaugural flight from Suriname touched down at 9:45 on Tuesday morning.
The Chairman of the Guyana Civil Aviation Authority, Larry London said the entry of Fly Allways into the Guyana market, augers well for competition and the Civil Aviation Authority will ensure that all service providers deliver top quality service.
"We will be watching them like hawks to ensure the Guyanese public wins", London said.
He thanked the airline for joining the Guyana market and promised to work with it to ensure its service is seamless.
The Chief Executive Officer of the airline, Hanif Walcott said Fly Allways did a lot of market research on connecting the Americas with the Caribbean and the research revealed a need for more connectivity from Guyana to Barbados. He promised a competitive and classy and comfortable service from the carrier.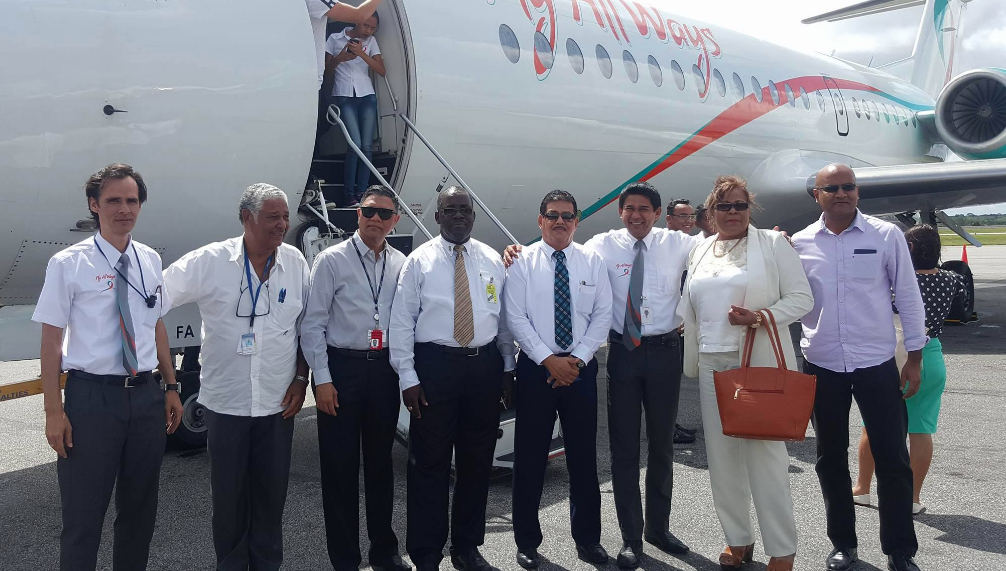 Minister of Public Infrastructure, Annette Ferguson, who holds the aviation portfolio, welcomed the services of the airline on behalf of the Guyanese government.
She reminded that air transport remains critical for connectivity and the aviation sector in Guyana is expected to grow tremendously in the coming years since it could play a key role in the development of various sectors.
The Minister challenged the airline to offer a high standard of passenger service that is efficient, and trustworthy.
She said the airline should also look at the possibility of flying to other Caribbean destinations from Guyana.
In addition to its schedule service, Fly Allways will also be providing a charter service.