Agents from the Customs Anti Narcotics Unit and the Police are currently investigating the discovery of a burnt out Cessna 206 aircraft along the Bissaruni trail, 12 miles east of Kwakwani in the Upper Berbice area.
In a statement, the Police said at around 8:15pm on Monday, a report was received about an aircraft that was spotted circling the Bissaruni trail.
The aircraft landed and was eventually discovered burnt but with no burnt bodies or illicit drugs on board. It is suspected that it may have been set alight after its landing.
Investigators suspect that the fire was deliberately set to the aircraft to destroy evidence and it is suspected that its occupants may still be in the area.
A search has been launched to locate the person or persons who flew in on the aircraft as a full investigation is being conducted into whats left of its contents.
The Police Force has since set up roadblocks in the area and surrounding communities as it seeks persons of interest.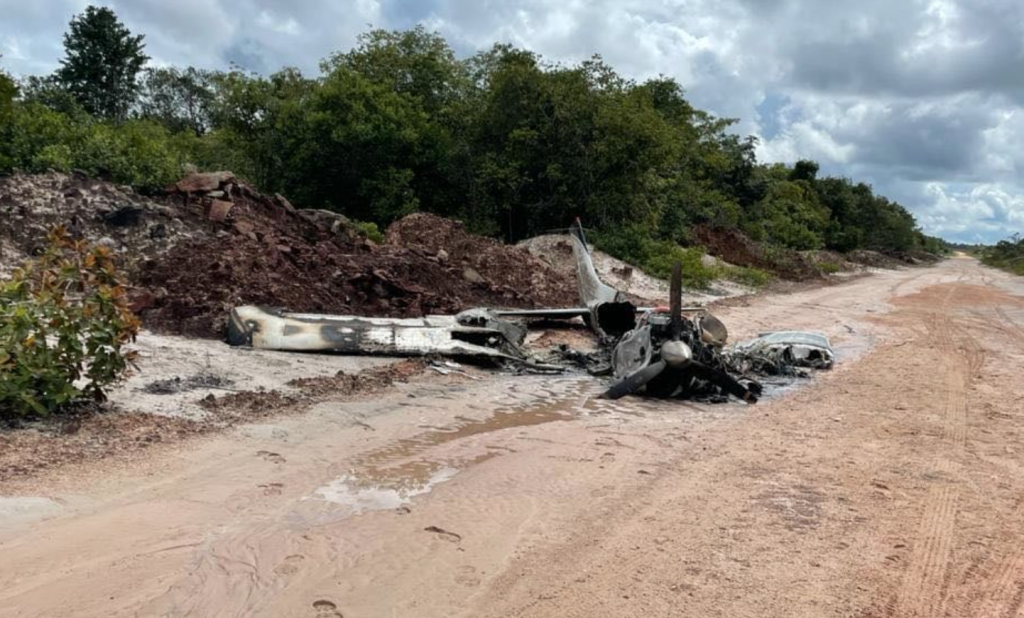 Meanwhile, another aircraft was seen flying over Southern Guyana yesterday and attempts were made by CANU and the GPF to intercept it, but the aircraft managed to land in neighbouring Suriname.
Surinamese Officials were alerted and managed to arrive on site, and subsequently seized more than 400 kilos of cocaine.
Back in May, over 1000 pounds of cocaine was discovered in Guyana on a Brazilian registered aircraft after it made an emergency landing in Orealla. The two pilots who were on board have since been charged and remanded for drug trafficking.