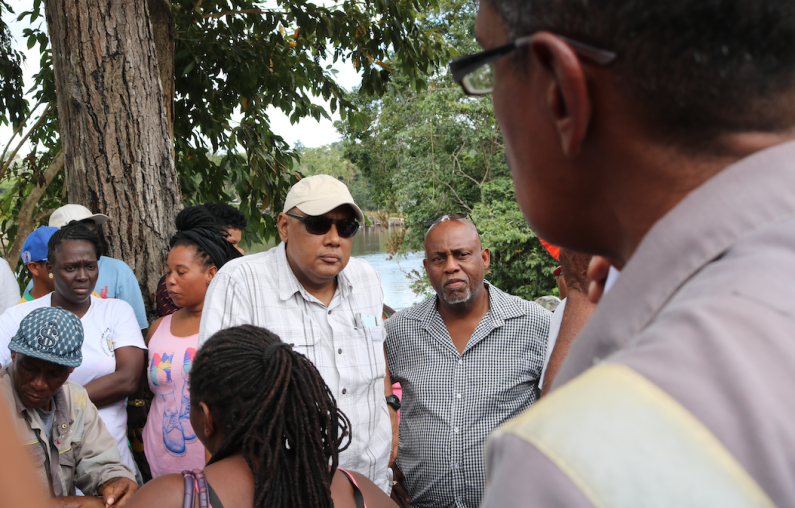 Natural Resources Minister, Raphael Trotman, on Saturday, urged the Rusal Bauxite Company and the Labour Department to find a way forward, as he visited the striking workers of the Russian managed bauxite company in the Upper Berbice river area.
Production at the bauxite company has been suspended as the workers continue to block the river way, preventing barges from accessing the company for bauxite shipments.
The standoff has entered its third week as the company refuses to rehire 61 workers it fired over their strike against a 1% increase in salaries.
The Government and several trade unions have been urging the company to rehire the workers. However, the company has been making some demands of its own and has not been budging from its position, effectively suspending operations.
During Saturday's meeting, the striking workers expressed their dissatisfaction with the way the company has been treating them and ignoring their concerns with working conditions for years.
During his meeting yesterday, Minister Trotman told the workers that "I continue to urge that both the company and the Ministry of Social Protection find a path forward"
He said the situation is hurting families, hurting workers and also hurting Guyana's economy.
"If the relationship is so fractured, perhaps it is time we look elsewhere, we can't have workers crying out like this, they are Guyanese. I met fathers, I met mothers, I met persons who haven't seen their families in over a month, and it is heart rending and I believe something has to be done", Trotman said.