The Guyana Asset Recovery Conference opened today at the Guyana Marriott Hotel with the US Ambassador Sarah-Ann Lynch challenging the local legislators to update the country's asset recovery framework to allow for greater prosecution.
"Asset recovery legislative frameworks are critical to taking the profit from crime. While we understand the challenge of reform, we encourage counterparts to update existing legislation to give judicial officers the best possible framework through which to adjudicate these cases. We hope this conference will be a step that leads to additional reform and ultimately, recovery of assets after a crime takes place," Ambassador Lynch said.
Speaking in the presence of the country's top judicial officers, the US Ambassador said the conference comes at a time when Guyana is experiencing rapid economic transformation.
The two-day conference was organized by the Judiciary of Guyana in collaboration with the U.S Department of State's Bureau of International Narcotics and Law Enforcement Affairs and the National Center for State Courts.
A similar conference was held in Guyana last July. That conference targeted Law Enforcement Officers and Prosecutors, and according to the US Ambassador, progress has already been recorded.
"We brought together experts from across the Caribbean, the United States, and Canada to discuss the overall topic of asset recovery and specifically conviction-based asset recovery. As a result of that workshop, we saw more law enforcement officers and prosecutors investigate and bring asset recovery cases before the courts using the knowledge they had gained," she said.
With a second conference taking place, Ambassador Lynch said she looks forward to future asset recovery investigations, trials, and prosecutions in Guyana.
In her address, the Acting Chancellor, Justice Yonette Cummings, warned that criminal elements will not enjoy the "sweet" of their ill-gotten gains as Law Enforcement Officers are coming after them.
"We were told growing up that crime does not pay, and the proceeds of crime, the ill-gotten gains, are only for a time. And why this is so? Because the State and Law Enforcement Agencies will come after those elements who try to get rich by criminal means, and to get their assets," the Chancellor said.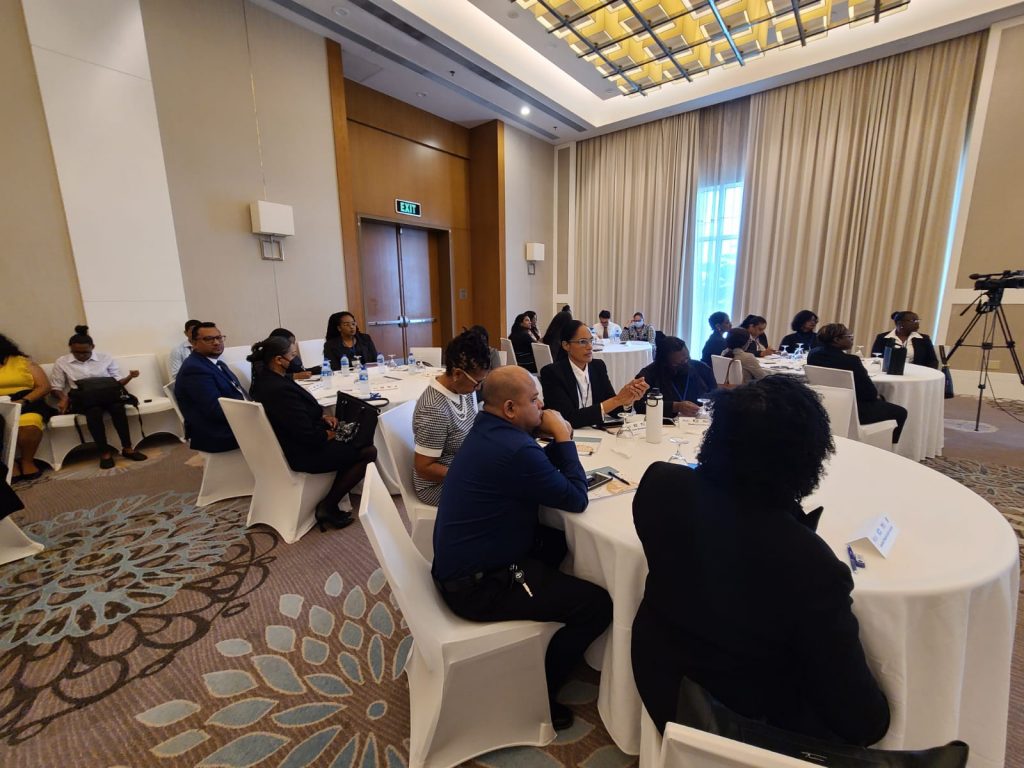 Like the US Ambassador, the Chancellor said the conference is happening at a critical time, and will cover a range of legal issues.
The issue of money laundering is forming part of the discussions.
"The spin off, oil and gas, and its related industries, and the challenges and legal issues associated with such economic development are well known, and the judiciary of Guyana must meet those challenges legally, and we must be above par in dealing with those issues. Hence, we see this workshop as another means of building and enhancing our capacity given us the key strategies to combat the issues confronting us," she said.
Organisers of the conference are hoping that it will build the institutional capacity of law enforcement officers to conduct robust and independent investigations and prosecutions of financial crimes.
Director of the Caribbean Anti-Crime Project, JoAnne Richardson; Deputy Director of the Caribbean Anti-Crime Project, Nicola Suter and Judicial Officers from Guyana, Belize and Jamaica are among those attending the conference. (Svetlana Marshall)