In an effort to deliver speedier trials and justice during the ongoing coronavirus pandemic, the local judiciary with support from the Government, commissioned several "virtual courtrooms" this morning.
The Courtrooms which have been set up at the Lusignan Prison will allow prisoners to face their trials and Court appearances without leaving the confines of the prison.
All of the virtual courtrooms, which have been made out of containers, have been fitted with video equipment and screens which will be linked to the Courtrooms.
Chancellor of the Judiciary (Ag) Justice Yonette Cummings said the virtual courtrooms are expected to make a major difference in the delivery of justice.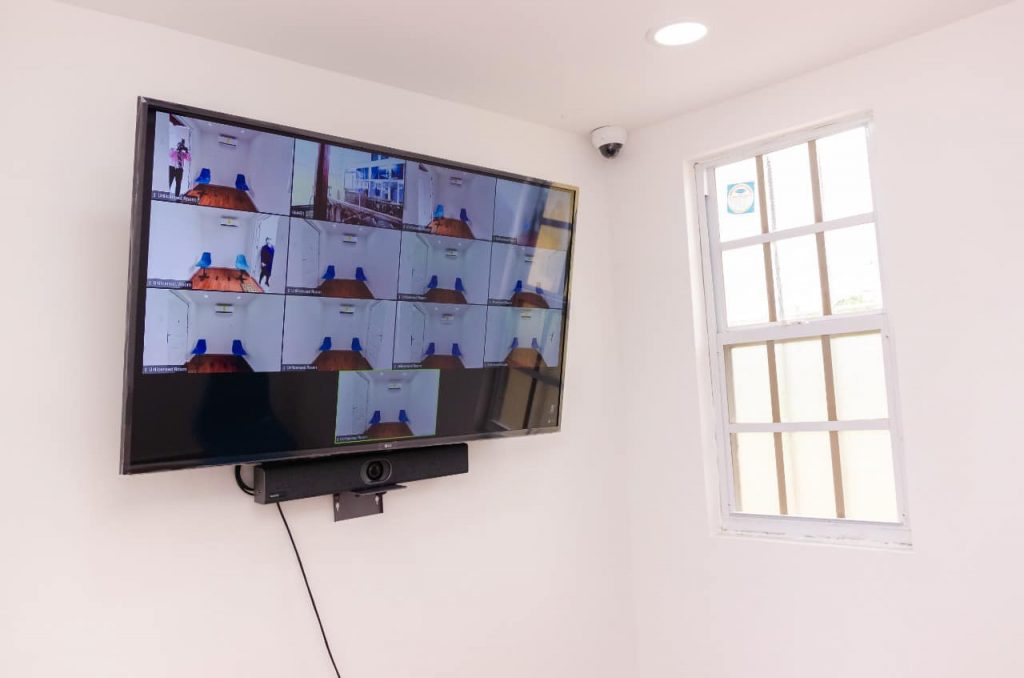 "Today's event will put us at a higher level, a level in which we can make a difference, a level in which we can make an impact in the criminal justice system. The roll-out out of the virtual courtrooms will ensure that justice is not only done, but justice manifestly appears to be done. It will show too that we have risen to the challenges of the pandemic."
Justice Cummings said the virtual courtroom initiative was devised based on the recommendation and work of a task force that examined the delay in trials and criminal hearings because of the pandemic.
The Chancellor said the modernised courtrooms demonstrate hope in difficult times and will help to ease the burden on the State. She also noted that it would reduce the transportation and security cost of having to transport inmates to and from the courts.
Chief Justice (Ag.) Roxane George said in addition to the 14 virtual courtrooms commissioned today, there are plans to open another four at the Camp Street location, eight at New Amsterdam, three at the Mazaruni Prison and four at the Timehri Prison.
"The Courts will benefit the attendance of prisoners in civil and family court matters ensuring their access to justice where they are parties. They demonstrate the commitment to upholding the rule of law and to respect the human rights of prisoners, victims and their families, who have a vesting interest in the timely hearing of criminal cases."
Attorney General and Minister of Legal Affairs, Anil Nandlall described the launch of the virtual courtrooms as a unique and historic initiative.
"The Executive and the Judiciary have joined hands together in creating a completely new addition to the criminal justice system. This was done without any compromise to the hallowed constitutional doctrine of separation of powers which binds both institutions," AG Nandlall said.
Courthouses in Guyana were shut down for several weeks in keeping with safety measures aligned to the coronavirus pandemic. Some of the courthouses have since reopened but with several measures in place to ensure the safety of those in attendance.