Minister of Education Priya Manickchand at an emergency press conference this afternoon blasted the Guyana Teachers Union over its decision to picket her office today, declaring that the Government will treat the union as a political entity if it acts that way.
"The union must decide if it wants to separate itself from being a political organization, if it wants to separate itself from the nasty politics of the APNU+AFC and continue being a professional body or if it wants to engage in that kind of politics. The PPPC as a party and as a government has never shied away from dealing politically with political organizations and we wouldn't ever. We are happy to engage the union as a professional union but if it becomes a political entity and frankly that's how it is shaping up, then we will engage it as a political entity", the Education Minister said.
The same GTU led strike action for several weeks against the APNU+AFC government in 2018 when there were concerns about salaries and benefits for teachers.
The General Secretary of the GTU is now a Member of Parliament for the APNU+AFC. She continues to be outspoken on issues related to education and teachers and has come under criticism from the Vice President and other Government officials.
The Education Minister believes that the protest today was the General Secretary's "petty" response to the criticism.
Manickchand said she cannot be accused of dodging and ignoring the union when she has held multiple meetings with the union since taking office.
She recalled that "I met with the union on the 11th August 2020 and that was six days after I was sworn in and five days after I had taken office. And that was how important how I believe the Guyana Teachers Union as a stakeholder group is. From then to now, we have met six times and on every occasion, we have had what I thought and what the union said were productive meetings."
Union officials complained today that on many serious issues related to the Education sector during the pandemic, the Ministry of Education has sidelined the union in the consultations and has been meeting directly with teachers.
The Education Minister said she will always consult directly with the teachers and other stakeholders, indicating that there will be no change in that posture.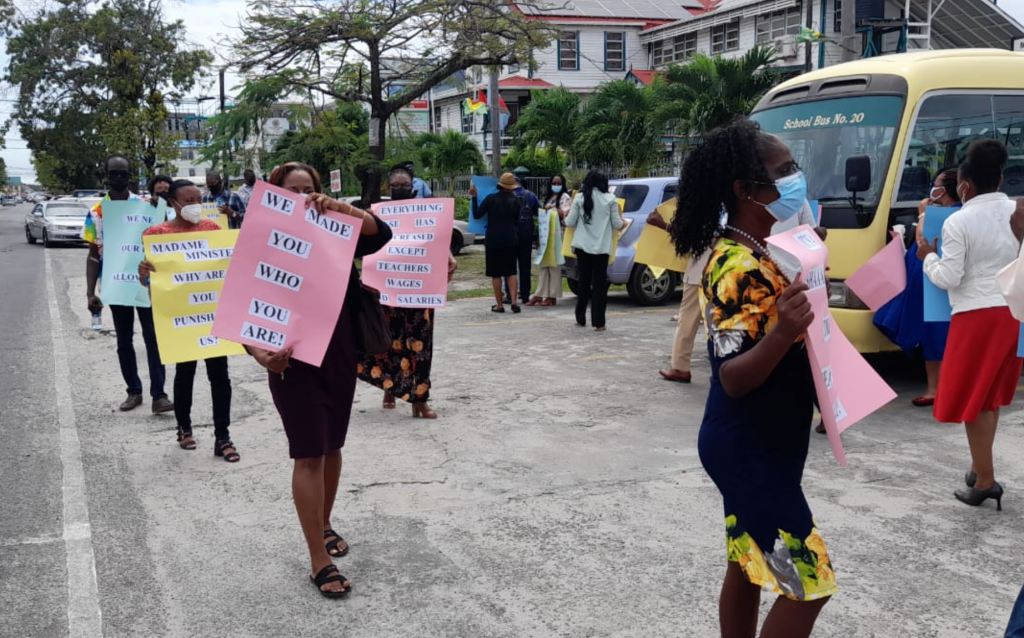 Manickchand said there was no need for today's protest since many of the issues raised by the union are issues that are under active discussions between the union and the Ministry.
On the issue of the reopening of schools, Ms. Manickchand said she has always told the Union President that whenever a decision is made on the issue, she will inform him first. She said whenever she announces issues related to the continuous closure of schools, those issues were first related to the GTU President.